RMU Ready Plan: Students
View for :  Students  |  Faculty & Staff
Robert Morris University is committed to promoting a safe and healthy environment for our students, faculty, staff, and visitors. This website explains the RMU Ready Plan for the Spring 2021 semester.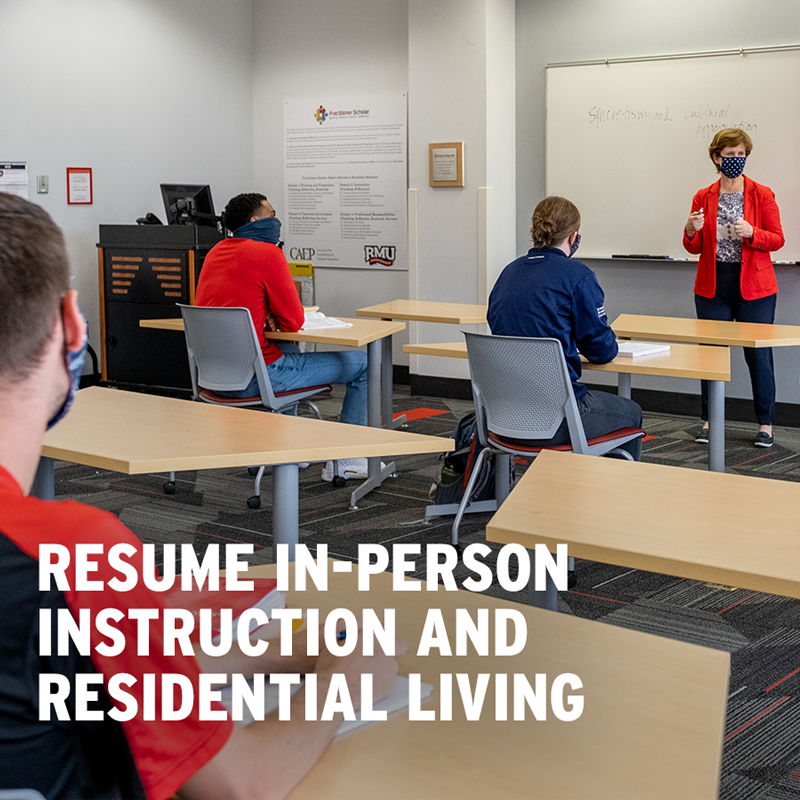 Classroom
We will take all steps possible to have a safe and healthy instructional environment, including masking of all students and instructors, instructor station plexiglass shields, physical distancing, and reduction of student movement between classes.
Some classes will be designated Virtual Rotation, allowing for smaller groups of students to rotate physically attending class with virtual attendance. For example, students may attend class in person on Tuesday with half of their classmates, and virtually on Thursday while the other half of the class attends in person.
Residence Halls
Returning students' families are asked to stay in their vehicles when dropping off their student.
Masks will be required in common areas, along with reduced capacity in elevators and spatial indicators and signage indicating limits to the number of occupants.
A no guest policy will be enforced at all times, including visitors from off campus, commuter students, and students from other residence halls.
Residential students will be grouped into "social pods" in relation to their housing assignments and encouraged to share activities, meals, programs, and restrooms for the purpose of building community, socializing, accountability, and health monitoring. 
A maximum of two people may accompany each new resident student to help with moving in. Temperature checks will be given completed at check-in for students and their support persons, and a move-in day and time will be designated in advance.
Students are asked to self-quarantine for 14 days prior to their return to campus. This means staying at home, minimizing contacts, and wearing a face mask and maintaining safe distance from any household member who is not self-quarantining.
The university will provide temporary housing and care for individuals who cannot go home and must be quarantined or isolated on campus when suspected or confirmed to be infected with COVID-19.
Campus
All students, faculty, staff, and visitors are required to wear masks indoors in all public or shared spaces (with the exception of dining facilities during meals while eating or drinking), and outdoors anywhere they are unable to maintain a consistent distance of at least six feet from other people who are not part of their household.
Library furniture will be spaced out to assist with safe distancing, unidirectional traffic signage will be employed, and wipes and disinfectant products will be available at the library help desk for users to wipe down equipment.
Dining facilities will post and maintain capacity limits, with appropriately spaced and limited tables and chairs per table. All customers and diners will be required to wear face masks until seated and actually eating or drinking.
Buffet-style or self-serve food and beverage stations will be replaced with staff-served meal stations. Bagged take-out meal option will be available also.
The Counseling Center will remain open and staff will be available for in-person crisis appointments.  Staff also will provide teletherapy via telephone or videoconferencing.
The Barnes & Noble Bookstore is open, with altered traffic flow and signage for physical distancing.  The store will continue to offer both in-store and online sales along with in-person store pick-up and direct shipments.
Indoor recreational facilities will operate with capacity restrictions based on health requirements to maintain physical distancing. Locker rooms and shared shower facilities will be closed. 
Student clubs and organizations will be encouraged, and in some cases, required to host meetings and events remotely or outdoors. Reservations for meeting spaces will be staggered so as to allow for cleaning between uses.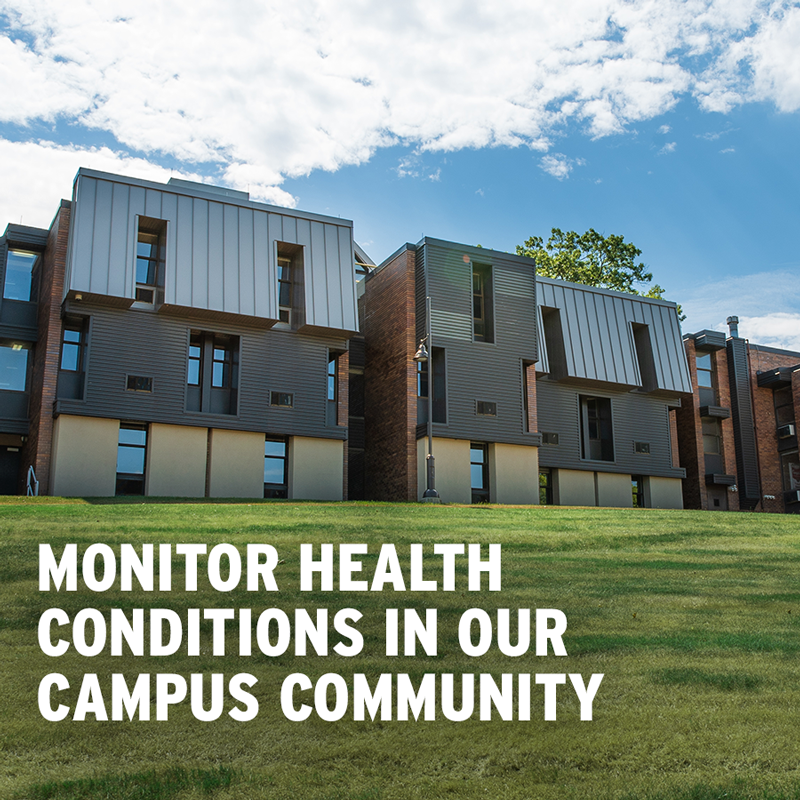 All individuals in the RMU community are requested to self-check for COVID-19 symptoms every morning and as frequently as necessary before going to class or coming to work. 
Students exhibiting any COVID-19 symptoms must not report to work, class, or any university-sponsored event or activity. 
Residential students with symptoms must contact MyHealth@School Center at (412) 397-6220 during business hours for phone screening and triage. At other times, residential students are advised to contact their own medical provider or the UPMC Anywhere Care Virtual Urgent Care, then call the MyHealth@School center on the next business day.
Commuter students with symptoms must contact their medical provider for screening, consultation and appropriate treatment. 
Students must contact MyHealth@School Center at (412) 397-6220 and report if they have tested positive for COVID-19 or have been exposed to someone who has tested positive. 
Students must contact the Dean of Students' Office to inform the university of any absences related to COVID-19 in order to be excused from class attendance. 
RMU may utilize random symptom checkers to stop individuals and check their symptoms on campus. Checking will include a series of symptom-related questions and temperature checks.
The university asks students to report non-compliance to the Provost's Office, Dean of Students' Office, RMU Police Department, or immediate supervisor, as appropriate, or using RMU's anonymous web-based incident reporting form.
RMU volunteers trained to conduct contact tracing in collaboration with the Allegheny County Health Department will assist and support the department in collecting information about possible contacts of anyone on campus diagnosed with COVID-19.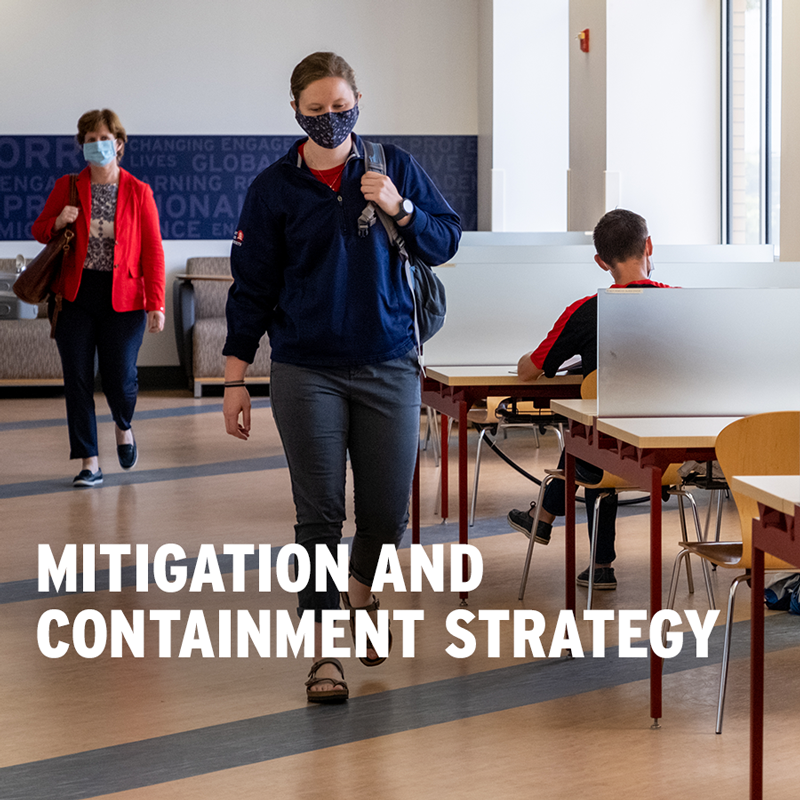 Campus visitors must wear masks and observe physical distancing at all times on campus. Guests and vendors will be provided masks if they do not have their own. Vendors and guests will be required to sign in at the locations where they are conducting business or visiting.
All non-essential university-related travel by students for RMU affiliated student organizations, programs, and groups is suspended until further notice including all study abroad for spring 2021. 
Masks and social distancing are both required. One is not a substitute for the other. Masks must cover both the nose and mouth. Disposable masks must be discarded into the trash after being worn for one day. Cloth face masks must be properly laundered before being used again.
A face mask or face covering means a covering that completely covers the nose and mouth, is secured to the head with ties, straps, or loops over the ears or is wrapped around the lower face, secures under the chin, fits snugly against the sides of the face without gaps, and should have two or more layers of breathable fabric. In following revised CDC guidance, coverings such as bandannas, gaiters and face shields are not recommended and do not meet this definition of a face mask.
RMU will make a cloth mask available to any student who needs one. Students are free to wear their own masks; graphics or other designs must conform to community decency standards.
All individuals are encouraged to wash their hands often with soap and water and cover their mouth and nose when they sneeze.
The university will provide daily routine cleaning and disinfection of all residence halls and enhanced cleaning and disinfecting protocols for classrooms using a CDC-approved product.
Shuttle routes and capacities will be adjusted to support physical distancing, and riders and drivers must wear masks while on the shuttles.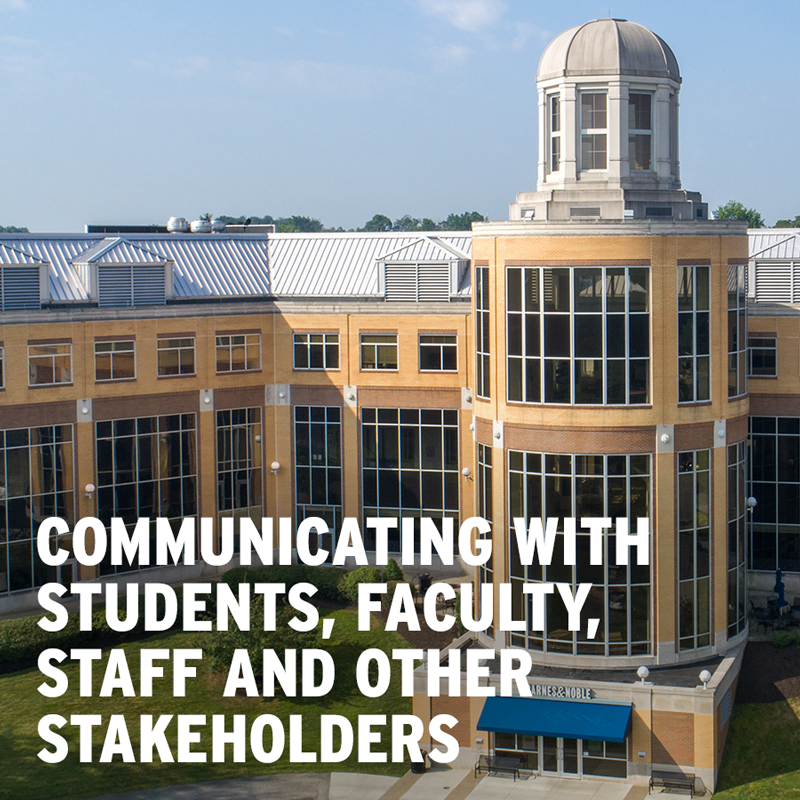 All students will be expected to read and electronically sign an acknowledgement of risk and adhere to the "RMU Code During COVID-19," a supplement to the Code of Student Conduct outlining additional behavioral norms and expectations for students to mitigate the spread of COVID-19.
All students will complete a video training on best practices for staying healthy and avoiding viral spread.
In the event of a suspected or confirmed case of COVID-19, communication will be made on a case-by-case basis to protect the privacy of an affected individual as much as possible while ensuring that contacts of affected individuals have the information they need to protect their own health and safety. Communications may be made via phone, email, and/or RMU Alert.
Reporting Non-Compliance
Students, faculty, and staff may report non-compliance with this Plan and/or other COVID-19 related safety measures to the Provost's Office, Dean of Students Office, RMU Police Department, or immediate supervisor, as appropriate. The university also utilizes a web-based tool for anonymously reporting noncompliance. This resource should be used as a last resort when an individual is uncomfortable reporting non-compliance through other university channels. Using this reporting page, you will see "COVID related" as an option under "Nature of the report."
Please check this page for regular updates regarding the coronavirus (COVID-19) outbreak, including recent messages to the campus community.