Dual M.B.A./M.S. in HR Management
Apply Today
The dual M.B.A./M.S. in Human Resource Management combines two highly respected business degree programs into one, merging the business acumen of an M.B.A. with the focused expertise of a human resource professional. Graduates are prepared for promotion and success as both HR managers and executives and key members of an organization's leadership team.
Contact Information
Jodi Potter  
Email: potterj@rmu.edu
Phone: 412-397-6387
Fax: 412-397-2217
Room: Massey Hall 231
Daria Crawley
Email: crawleyd@rmu.edu
Phone: 412-397-6379
Fax: 412-397-2217
Room: Massey Hall 306
Sample Courses:
These are some of the classes for students in this academic program:
Employee Rights Under Law
Leading the Business Enterprise
Strategic HR Management
Top Employers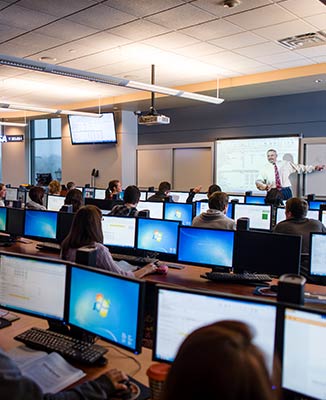 School of Business
For nearly a century, our business students have learned to excel in a demanding professional world. With corporate connections and expert faculty mentors, our heritage is your future.
Visit School Site