Human Resource Management M.S.
Apply Today
Rapid advances in technology, changing dynamics of a multigenerational and multicultural workplace, and challenges of a shifting global economic landscape make the role of the human resource manager more critical than ever to a successful organizational strategy. RMU's Masters in Human Resource Management program is designed to equip the HR professional with the tools necessary to effectively address the threats and opportunities organizations encounter.
The program provides a strategic focus, preparing graduates for careers as successful HR managers and executives and key members of an organization's leadership team.
Certificates in Human Resources Management offer the established practitioner and the professional transitioning into HR, as well as the student planning to enter the field the opportunity to gain specialized knowledge in an area of particular interest.
Contact Information
Jodi Potter  
Email: potterj@rmu.edu
Phone: 412-397-6387
Fax: 412-397-2217
Room: Massey Hall 231
Daria Crawley
Email: crawleyd@rmu.edu
Phone: 412-397-6379
Fax: 412-397-2217
Room: Massey Hall 306
Course Plan

Required Courses

HRMG 6100 Challenges in HRM - Fall
HRMG 6125 Enhancing Employee Retention Through Selection and Training - Spring
HRMG 6235 Total Rewards: Compensation & Benefits - Spring
HRMG 6500 Employment Law- Fall
MBAD 6005 Fundamentals of Accounting and Finance - Fall
HRMG 6700 HR Measurements and Applications- Fall
HRMG 6900 Strategic HRM - Spring

Elective Courses

HRMG6050 Labor Relations - Spring
HRMG6320 Behavioral Dynamics and Their Impact on Human Capital - Spring
HRMG6220 Contract Negotiation and Administration - Summer
HRMG6020 Inclusion and Equity in Organizations - Summer
HRMG6620 Grievance Resolution and Arbitration - Fall
Sample Courses:
These are some of the classes for students in this academic program:
Compensation Management
Employee Rights Under Law
Strategic HR Management
Top Employers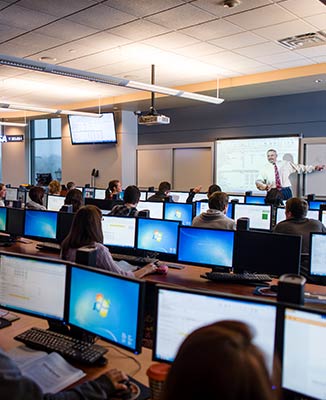 School of Business
For nearly a century, our business students have learned to excel in a demanding professional world. With corporate connections and expert faculty mentors, our heritage is your future.
Visit School Site