RMU Student Team Places First in Dick's Sporting Goods Analytics Case Competition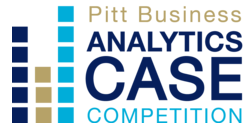 The Robert Morris University entry to the University of Pittsburgh Katz School of Business DICK'S Sporting Goods Analytics Case Competition has come in FIRST PLACE out of a field of 24 teams of business students from national universities! 
The competition spanned approximately one month. The first stage of the competition required the four-person teams to provide a solution to a specific problem faced by the retail industry. The 12 teams with the best answers were invited to compete in the next round where the teams were given two weeks to analyze fictional (but realistic) data pertaining to DSG's operations in order to develop solutions for a series of complex issues facing DSG. These 12 teams were from the following universities: Indiana University, Bloomington; Villanova University; The University of Virginia; Iowa State University; Oklahoma State University; Boston University; The University of Pittsburgh; Carnegie Mellon University; Emory University; Rutgers University; and, Arizona State University.  The teams presented their solutions on April 9, 2021. Of those 12 teams, three were selected for the competition's finals, where the selected teams were given one hour to develop solutions to yet another issue facing DSG. After these final presentations, the judges named the RMU team the overall winner of the competition and the grand prize of $3,000. 
The rules of the competition stipulated that the student teams may not receive any help from their faculty advisor, instead relying on their own collective knowledge. The RMU team members display a diversity of academic majors and minors that made their team stronger. The team members are:
Alexander Gagnon--Senior, Sport Management Major
Zachary Hungerman--Senior, Sport Management Major, Graphic Design minor
Nicole Kristof--Senior, Double Major, Marketing & Sport Management
Jayme Sanner--Junior, Statistics & Predictive Analytics Major; Finance minor
Dr. John Clark—Faculty Advisor; University Professor, Department of Sport Management