Seven Named Deans' Distinguished Alumni
New award recognizes graduates who exemplify the school's core values.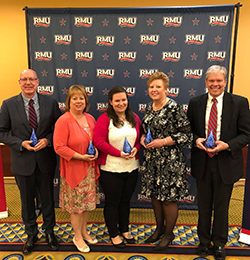 The Dean's Distinguished Alumni Awards were inaugurated this spring to recognize SNHS graduates who exemplify the core values of the university and loyalty to RMU. Recipients were chosen for their outstanding achievement in their professional career, exceptional scholarly achievement, or exemplary and sustained service to their profession.
 
The seven alumni recognized for their accomplishments were:
 
John Michael Borza, DNP, MBA, CRNA - DNP 2014
Michaelle Patricia Callihan, DNP, MSN, BS, FNP-BC, CHFN - DNP 2010, MSN 2009, BSN 2006, BS 1991
Donna McDermott, PhD, MSN, RN, CHSE - MSN 2011
Danny Moore, DSc, MS, MBA, BBA, BS - MS 2017
Samantha M. Norris, BSN - BSN 2014
Betty Speir, MSN, MS, BS, RN, CHSE - MSN 2015, Sim Cert. 2013
Kathleen A. Tuttle, BS, CNMT - BS 2013
 
"We are grateful to each of these alumni for their hard work and dedication to our school and our professions," said former SNHS Dean Valerie Howard.