International Women's Day 2021
Help WLMP and CGE celebrate throughout the month of March through a collaborative social media campaign!
#RMUWomensDay
On International Women's Day (March 8th) the world comes together to celebrate the social, economic, cultural and political achievements of women and to champion gender equity. The Women's Leadership and Mentorship Program (WLMP) and Center for Global Engagement (CGE) at RMU are collaborating with Students, Faculty/Staff, and the RMU Community to celebrate International Women's Day throughout the month of March! This is YOUR opportunity to celebrate the global achievements of women and connect their work back to your own experience at RMU.
Learn more about the importance of International Women's Day here.
WLMP and CGE will be offering SET credit to students who submit a short reflection on an inspiring international woman in their field of study. This reflection will be transformed into a social media post (posted publicly via WLMP, CGE and other affiliated social media channels) that informs, inspires and empowers. This social media campaign will be ongoing until the WLMP's Women and Transformational Leadership Symposium on March 25th and 26th.
WLMP and CGE are inviting other RMU Departments, Faculty/Staff members, and the wider RMU community to share and repost this meaningful campaign using the hashtag #RMUWomensDay. Thank you in advance for your support in making this campaign a success!
For Students
Please visit bit.ly/IWDSetCredit2021 to submit and participate. We will be accepting submissions throughout the month of March. Make sure to submit early and allow enough time for research before you submit.
All students must be mindful, diverse, and globally inclusive in their reflections. Reflections should highlight a wide array of international issues and global challenges that women are facing today. Submitting an approved post counts toward the Transcultural/Global Experiences SET category. You can choose to count it as part of the Virtual World Series (a Category C event) or as part of the Global Village Visa (one of three additional approved events).
Reflection Prompt
Please submit a 150-300 word reflection on the international woman that you are highlighting. This reflection should be informative, inspiring, and relate back to your field of study or professional journey. Your reflection should answer the following: Why should the public care about her work and how has she influenced her field? How does her work connect to your major or field of study? What specifically about her work inspires you, and what are your main takeaways for your own academic and professional journey? Your reflection may be posted publicly on WLMP, CGE, or other related social media channels. This post will include your name, major and class.
Sample Post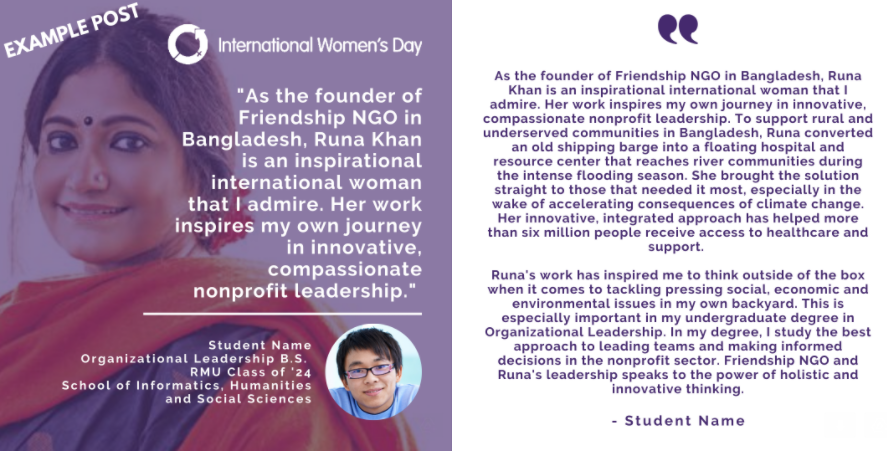 For Faculty/Staff, Other Departments, and the RMU Community
Help WLMP and CGE spread this campaign far and wide!
Follow WLMP on Instagram and Twitter. Each post will tag the students' school and other related departments/RMU groups to help further connect their reflection to their major and area of study.
Share, share, share!