Applied Mathematics B.S. (Mathematics Teacher Education)
Apply Today
The B.S. in Applied Mathematics with a concentration in Mathematics Teacher Education prepares students for rewarding positions as middle school or high school math teachers. Students combine foundational knowledge in advanced mathematics and statistics with a set of core experiences in professional education. A final component of the program is a student teaching internship. Graduates of the program are qualified to apply for state certification to teach mathematics in grades 7-12 in Pennsylvania.
Contact Information
David Hudak, Ph.D.
Department Head, Mathematics
hudak@rmu.edu
412-397-4056 phone
4-Year Course Plan
Sample Courses:
These are some of the classes for students in this academic program:
Content Specific Pedagogy: Math
Technology for Teachers
Intro Proofs & Number Theory
Math, Statistics, Information Sciences
Communication Skills, Economics, Humanities, History, Sciences, etc.
Top Employers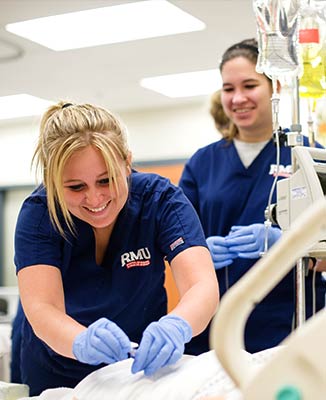 School of Nursing, Education and Human Studies
More than ever before, today's complex healthcare environment needs skilled clinicians,  expert communicators, and good people. Our students are about more than a major.
Visit School Site