Applied Mathematics B.S. (Mathematics Teacher Education)
Apply Today
The B.S. in Applied Mathematics with a concentration in Mathematics Teacher Education prepares students for rewarding positions as middle school or high school math teachers. Students combine foundational knowledge in advanced mathematics and statistics with a set of core experiences in professional education. A final component of the program is a student teaching internship. Graduates of the program are qualified to apply for state certification to teach mathematics in grades 7-12 in Pennsylvania.
Contact Information
David Hudak, Ph.D.
Department Head, Mathematics
hudak@rmu.edu
412-397-4056 phone
4-Year Course Plan

Freshman Year, Fall

CSEN1010 Reading and Writing Strategies or CSEN1020 Intercultural Communications
HUMA1010 Humanities: Art and Music
ECON1010 Survey of Economics
MATH2070 Calculus w/ Analytic Geometry I
FYSP 1000 First Year Experience
Open Elective

Freshman Year, Spring

CSEN1020 Argument and Research
INFS1050 Fundamentals of Information Systems or INFS3220 Systems Analysis and Design or INFS2470 Decision Support Systems or EDUC2200 Technology for Teachers
HIST1100 US History I or HIST1200 US History II
MATH2170 Calculus w/ Analytic Geometry II
EDUC2100 Educational Psychology

Sophomore Year, Fall

CSCM1030 Public Speaking and Persuasion
Natural Science Elective and Lab (BIOL2370/2380, CHEM1210/1215, PHYS1210/1215 or SCIE 1570/1580)
MATH3090 Calculus w/ Analytic Geometry III
MATH4000 Discrete Math
EDUC2000 Schools and Society

Sophomore Year, Spring

CSCM2040 Professional Communications
INFS2110 Programming Logic or INFS3150 Intro to Web Development or INFS3430 Intro to Multimedia
STAT2110 Statistics
MATH3400 Linear Algebra with Applications
EDUC3600 Educational Assessment
Open Elective

Junior Year, Fall

ELIT1040 Reading Literature: Coming of Age
PSYC1010 General Psychology
INFS2120 Visual Basis Programming or INFS3184 C++ Programming
STAT3140 Mathematical Statistics I
SPED3010 Intro To Special Education PreK-12
EDUC3400 Curriculum Instructional Design

Junior Year, Spring

MATH3250 Practicum Teaching Math w/ Technology
MATH3200 Geometry
MATH4050 Abstract Algebra/Number Theory
Approved Elective from ACI, ENGR, MATH, MGMT, or STAT
SPED3020 Teaching in the Inclusive PreK-12 Classroom
EDUC3600 Educational Assessment

Senior Year, Fall

SOCI1010 Principles of Sociology or SOCI1020 Contemporary American Social Problems
Approved Elective from ACI, ENGR, MATH, MGMT, or STAT
EDUC3165 Teaching English Language
Open Elective
EDUC4130 Content Specific Pedagogy: MATH
Co-requisite to EDU4120
Elective Recommended

Senior Year, Spring

EDUC4200 Student Teaching Seminar (3 credits)
EDUC4530 Student Teaching Internship: MATH (9 credits)
Sample Courses:
These are some of the classes for students in this academic program:
Content Specific Pedagogy: Math
Technology for Teachers
Intro Proofs & Number Theory
Math, Statistics, Information Sciences
Communication Skills, Economics, Humanities, History, Sciences, etc.
Top Employers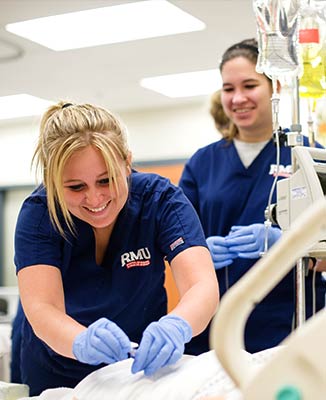 School of Nursing, Education and Human Studies
More than ever before, today's complex healthcare environment needs skilled clinicians,  expert communicators, and good people. Our students are about more than a major.
Visit School Site