Biology B.S. (Biology Education)
Apply Today
The B.S. in Biology with a concentration in Biology Education prepares students for rewarding middle school or high school teaching positions in the biological/life sciences. Students complete studies in biology and chemistry and a set of core experiences in professional education, including participation in guided fieldwork. Graduates of the program are qualified to apply for state certification to teach biology in grades 7-12 in Pennsylvania.
Contact Information
Paul Badger, Ph.D.
Department Head & Coordinator, Lab Safety
badger@rmu.edu
412-397-4032 phone
4-Year Course Plan

Freshman Year, Fall

CHEM1210 Chemistry I
CHEM1215 Chemistry I Lab
EDUC2000 Schools and Society
FYSP 1000 First Year Experience
Core: BIOL1310 Principles of Biology I
Core: BIOL1315 Principles of Biology I Lab
Core: CSEN1020 Argument and Research
Core: ELIT1040 Reading Literature: Coming of Age

Freshman Year, Spring

BIOL2310 Principles of Biology II
BIOL2315 Principles of Biology II Lab
CHEM2210 Chemistry II
CHEM2215 Chemistry II Lab
EDUC2100 Educational Psychology & Classroom Management
Core: MATH2070: Calculus with Analytic Geometry I
Core: PSYC1010: General Psychology

Sophomore Year, Fall

BIOL2370 Microbiology
BIOL2380 Microbiology Lab
BIOL2470 Botany
BIOL2480 Botany Lab
ENVS2500 Ecology
ENVS2550 Ecology Lab
Core: CSCM1030 Public Speaking & Persuasion

Sophomore Year, Spring

EDUC2200 Technology for Teachers
BIOL3370 Cell/Molecular Biology
BIOL3375 Cell/Molecular Biology Lab
BIOL2570 Zoology
BIOL2580 Zoology Lab
STAT2110 Statistics
Core: CSEN1010 OR CSSCM2050

Junior Year, Fall

EDUC3400 Curriculum Instruction Design
BIOL3470 Human Genetics
BIOL3475 Human Genetics Lab
BIOL3570 Comparative Vertebrate Anatomy
BIOL3580 Comparative Vertebrate Anatomy Lab
Or
BIOL3110 Advanced Human Anatomy
BIOL3115 Advanced Human Anatomy Lab
SPED3010 Intro. to Special Ed. PreK-12
Core: CSCM2040 Prof. Comm. in the Workforce

Junior Year, Spring

EDUC3600 Educational Assessment
BIOL3670 Comparative Vertebrate Physiology
BIOL3660 Comparative Vertebrate Physiology Lab
PHYS1010 Physics for Allied Health
PHYS1015 Physics for Allied Health Lab
Or
PHYS1210 General Physics 1
PHYS1215 General Physics 1 Lab
SPED3020* Teaching in Inclusive Classrooms PreK-12

Senior Year, Fall

EDUC3165 Teaching English Language Learners
EDUC4140 Content Specific Pedagogy: Biology (with Co-requisite EDUC0440 Pre-Student Teaching - 0 credits)
Core: HUMA1010 Humanities: Arts & Music
Core: SOCI Requirement
Core: HIST or POLS Requirement
EDUC0105 Praxis Prep Biology
Elective Recommended

Senior Year, Spring

EDUC4200 Student Teaching Seminar
EDUC4540 Student Teaching Internship: Biology
Sample Courses:
These are some of the classes for students in this academic program:
Ecology Fundamentals
Curriculum Design & Instruction
Human Genetics
Biology, Chemistry, Physics
Communication Skills, Economics, Humanities, History, Sciences, etc.
Top Employers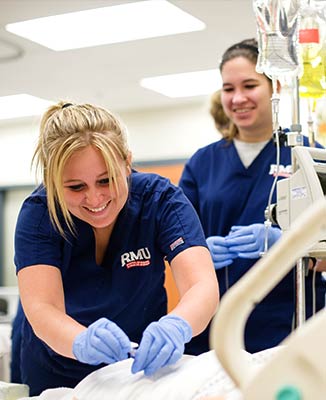 School of Nursing, Education and Human Studies
More than ever before, today's complex healthcare environment needs skilled clinicians,  expert communicators, and good people. Our students are about more than a major.
Visit School Site