Business Administration B.S. (Hospitality and Tourism Management)
Apply Today
Availability
Available - On Campus
Available - Online
The B.S. in Business Administration with a concentration in Hospitality and Tourism Management helps students understand the basic principles that underline the hospitality and tourism industry, with emphasis on management and marketing skills. Students develop an understanding of the global multi-cultural international marketplace. They also gain an understanding of the interrelationship of hospitality functions to guest satisfaction. With the 4+1 integrated degree program, students can go on to earn their M.B.A. with only one additional year of study.
Graduates hold positions at hotels, restaurants, resorts, attractions, airlines, parks, cruise lines, hospitals, retirement centers, and casino and gaming concerns. Jobs include event manager, restaurant manager, catering sales, and hotel manager.
Interested students in this course of study may be eligible for the Early Law School Admission Program.
Contact Information
David Synowka 
Email: synowka@rmu.edu
Phone: 412-397-6388
Fax: 412-397-2217
Room: Massey Hall 330
4-Year Course Plan

Freshman Year, Fall - 16 credits

CSEN1020 Argument and Research
MATH1010 Pre-Calculus 
INFS1020 Introduction to Decision Support Systems
PSYC1010 General Psychology
HTMG3002 Introduction to Hospitality and Tourism Management
FYSP1000 First Year Experience

Freshman Year, Spring - 15 credits

SOCI1010 Principles of Sociology
HUMA1010 Humanities: Art/Music
CSCM1030 Public Speaking and Persuasion 
MGMT2000 Management Theory and Practice
Natural Science Elective

Sophomore Year, Fall - 15 credits

MATH2040 Finite Math and Applied Calculus 
ECON1020 Principles of Macroeconomics
MARK2000 Principles of Marketing
CSCM2040 Professional Communicants in Workplace
ACCT2030 Introduction to Financial Accounting

Sophomore Year, Spring - 15 credits

CSCM2050 Intercultural Communications
MGMT2100 Statistical/Quantitative Analysis
BLAW1050 Legal Environment of Business I
ECON1030 Principles of Microeconomics
ACCT2060 Managerial Accounting

Junior Year, Fall - 15 credits

FINA3000 Principles of Finance      
MGMT3650 Entrepreneurship and Innovation 
HTMG3021 Food and Beverage Operations
HTMG3020 Hospitality & Tourism Marketing & Sales
Business Administration Elective* 

Junior Year, Spring - 15 credits

HTMG3010 CIS for Hospitality/Tourism Management
HTMG3045 Meeting and Convention Management
ELIT____ Literature Elective
Business Administration Elective*
HIST____ History Elective

Senior Year, Fall - 15 credits

HTMG3053 Supervision Hospitality and Tourism
MGMT4050 International Business
Business Administration Elective*
Non-Business Elective
Non-Business Elective

Senior Year, Spring - 14 credits

MGMT4850-Strategic Management
HTMG4052 Executive Development
Business Administration Elective*
Non-Business Elective
Non-Business Elective

* All Business Electives must be a 3 or 4 level course
Sample Courses:
These are some of the classes for students in this academic program:
Food & Beverage Operations
Meeting & Convention Management
Hospitality Tourism & Marketing Sales
Accounting, Marketing, Finance, Meeting and Convention Management, Hospitality Tourism Operations, Food and Beverage Operations
Communication Skills, Economics, Humanities, History, Sciences, etc.
Top Employers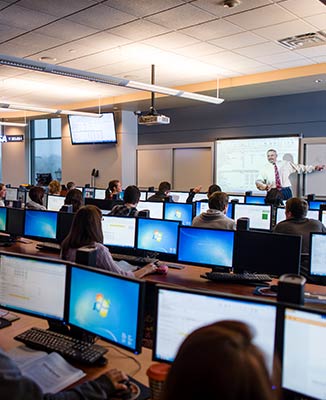 School of Business
For nearly a century, our business students have learned to excel in a demanding professional world. With corporate connections and expert faculty mentors, our heritage is your future.
Visit School Site