Communication B.A. (Communication Studies)
Apply Today
The B.A. in Communication with a concentration in Communication Studies is designed as a generalist concentration, allowing students to tailor their specific interests within the framework of a communication degree. It is especially suited for transfer students by allowing the maximum credits to be transferred. Students majoring in communication can also pursue concentrations in advertising, corporate communication, journalism, public relations, and theater.
Graduates go on to careers in corporate communications, advertising, journalism, public relations, and theater. Jobs include P.R. coordinator, journalist/reporter, video production specialist, web content manager, market researcher, and camera operator.
Contact Information
Anthony Moretti
Department Head
moretti@rmu.edu
412-397-6467
Wheatley Center 215
4-Year Course Plan

Freshman Year, Fall

JRNL 2015 Found of JRNL
COMM2015 Found of Adv
CSEN1010 Reading/Writing Strat
MATH1050 Math Reasoning
SOCI1010 Principles of Sociology

Freshman Year, Spring

COMM2000 Foundations in PR
COMM2040 Applied Storytelling
CSEN1020 Argument & Research
JRNL2035 News Writing I
PSYC1010 General Psychology

Sophomore Year, Fall

CSCM1030 Public Speaking
COMM2010 Comm & Sport
COMM2100 Found in Strat Comm
ARTM2410 Int Mult Camera Studio
HUMA1010 Humanities Art/Music

Sophomore Year, Spring

CSCM2040 Professional Comm
COMM2020 Interpersonal Comm
ARTM2430 Field Production
Natural Science Elective
Open elective-Minor

Junior Year, Fall

HIST or POLS science elective
JRNL3031 Broadcast News Writing
ECON1010 Economics
Open elective-Minor
Open elective

Junior Year, Spring

COMM3950 Research Methods
JRNL3065 Sports Reporting
INFS1020 Intro to Decision Support
Open elective-Minor
Open elective- Minor

Senior Year, Fall

COMM 4060 Comm Seminar
COMM/JRNL Elective
COMM/JRNL Elective,
Open elective-Minor
Open elective

Senior Year, Spring

ELIT Literature Elective
COMM/JRNL Elective,
Open elective-Internship
Open elective-Minor
Open elective
Sample Courses:
These are some of the classes for students in this academic program:
Transmedia Storytelling
Understanding Media in a Changing World
Public Speaking & Persuasion
Communication, English, Marketing
Communication Skills, Economics, Humanities, History, Sciences, etc.
Top Employers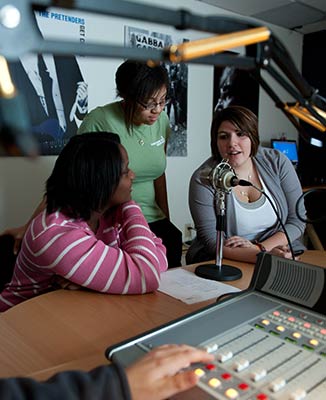 School of Informatics, Humanities and Social Sciences
Focus on delivering information in a way that makes an impact. Create images that capture attention, compose words that inspire, and design technology that changes how we live.
Visit School Site