Media Arts B.A. or B.F.A (Digital Cinema and Television)
Apply Today
The B.A. or B.F.A. in Media Arts with a concentration in Digital Cinema and Television prepares students to work behind the scenes and in front of the camera, both inside the studio and out on location. Students learn about all production positions and specialize in one area or two. Areas addressed include videography, storyboarding, filmmaking, field production, editing, motion graphics, sound design, and writing for the media.
Graduates go on to careers in advertising, television, photography, film, video and multimedia production, brand identity, music publishing, and broadcast design. Jobs include videographer, scriptwriter, producer, sound designer, and film editor.
Contact Information
Heather Pinson
Department Head
pinson@rmu.edu
412-397-6463
Wheatley Center 215
4-Year Course Plan (B.A.)
4-Year Course Plan (B.F.A)
Sample Courses:
These are some of the classes for students in this academic program:
Directing for the Camera
Motion Graphics
Aesthetics of Cinema
Theater, Communications, Media Arts
Communication Skills, Economics, Humanities, History, Sciences, etc.
Top Employers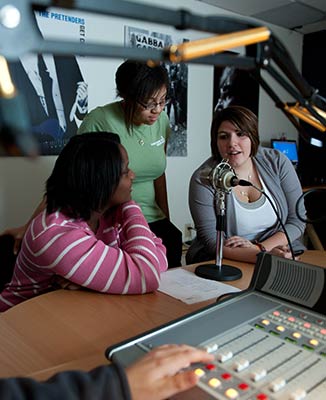 School of Informatics, Humanities and Social Sciences
Focus on delivering information in a way that makes an impact. Create images that capture attention, compose words that inspire, and design technology that changes how we live.
Visit School Site