Media Arts B.A. or B.F.A (Graphic Design)
Apply Today
A Media Arts degree with a concentration in Graphic Design prepares creative and artistic students for lifelong careers in visual communication. Students in Graphic Design are visual problem solvers who communicate with text and images in a wide range of applications and settings. Our graduates have careers in interesting and creative fields such as—visual communications, web design, illustration, typography, art direction, logo and icon design, digital and game art, advertising design, user experience design, and corporate communications.
Graphic Design classes in the Media Arts B.A. and B.F.A. degree programs take place in the Wheatley Center—home to large, well-lit art studios and spacious computer labs that feature cutting-edge Macintosh Pro computers and Adobe Creative Suite software. Our design students have 24/7 access to the labs and studios, access to professional-grade computers, software, a laser color printer, wide-format inkjet printer, laser cutter, 3-D printers, a woodshop, spray booth, vacuum former, lighting studio, and exhibit spaces to showcase their creative work.
Contact Information
Heather Pinson
Department Head
pinson@rmu.edu
412-397-6463
Wheatley Center 215
4-Year Course Plan (B.A.)
4-Year Course Plan (B.F.A)
Sample Courses:
These are some of the classes for students in this academic program:
Advanced Illustration
Corporate Identity Design
Production for the Designer
Communications, Media Arts, Marketing
Communication Skills, Economics, Humanities, History, Sciences, etc.
Top Employers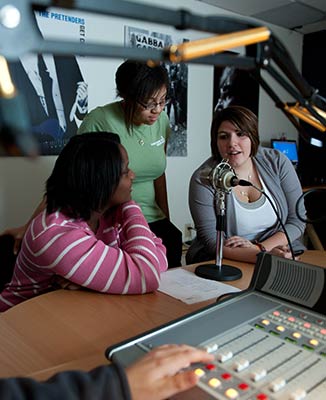 School of Informatics, Humanities and Social Sciences
Focus on delivering information in a way that makes an impact. Create images that capture attention, compose words that inspire, and design technology that changes how we live.
Visit School Site