Secondary Education - English B.A.
Apply Today
The B.A. in English with a concentration in English/Communication Education prepares students for rewarding middle school or high school teaching positions in English language and literature and communication. Students combine foundational knowledge in literature, linguistics, rhetoric, and technology integration with a set of core experiences in professional education. A final component of the program is a student teaching internship.
Graduates of the program are qualified to apply for state certification to teach English/Communication in grades 7-12 in Pennsylvania.
Contact Information
Carianne Bernadowski, Ph.D. 
Professor of Education
bernadowski@rmu.edu
412-397-5463 
Vicki J. Donne, D.Ed. 
Department Head, Education 
donne@rmu.edu
412-397-5465
Sample Courses:
These are some of the classes for students in this academic program:
Teaching English Language Learners
The Study of Literature
Student Teaching Seminar
English Lit, Education, Special Education
Communication Skills, Economics, Humanities, History, Sciences, etc.
Top Employers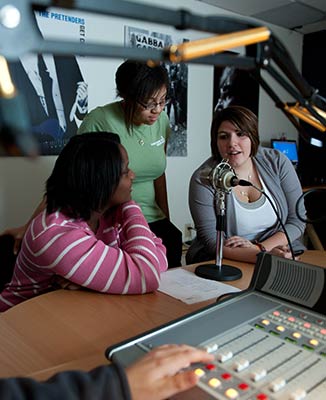 School of Communications and Information Systems
Focus on delivering information in a way that makes an impact. Create images that capture attention, compose words that inspire, and design technology that changes how we live.
Visit School Site