Professional Writing B.A.
Apply Today
Turn a love of writing into a successful career.
Gain diverse professional skills in writing and editing that prepare you for a communication-intensive career in media, business, theater, publishing, and marketing, or continue to law school or a graduate degree program.
The B.A. in Professional Writing degree program prepares you to work as a professional or technical writer, such as a screenwriter, journalist, blogger, social media consultant, editor, or grant writer.
In the nonprofit sector, professional opportunities include writing therapy, drama therapy, and narrative therapy. The degree also prepares for admission to graduate study in the humanities, such as history, linguistics, English, bioethics, and the medical humanities - or to law school.
Professional Focus: Each student graduates with a writing portfolio which is a record of achievement in a variety of writing genres, including both creative and professional written work.
Hands-on Experience: Each student completes an internship which provides professional experience applying and honing writing skills in career-oriented settings. Students may join the literary magazine Rune as an author or editor, assist at the University Writing Center, or engage as a writer-presenter in the annual, gothic-themed Creepy Conference, hosted by RMU's chapter of Sigma Tau Delta, the international English honor society. 
Second Major/ Minor Opportunity: Interested students can complete a double major, add minors, or complete professional certifications that support their career goals while building their skills as writers and editors.
Writing Community and Mentorship: The program offers a supportive community of writers, researchers, and critical thinkers within the university and throughout the Pittsburgh region. Faculty members are actively publishing authors and scholars with experience in workplace and media writing who provide individual professional writing and career mentorship.
Degree Requirements and Courses

View Printable Course Sheet  Guided Course Plan

RMU CORE COURSES - 39 CREDITS REQUIRED

CSEN; or CSCM1010; or 2050    Reading & Writing Strategies; OR Intercultural Communications (Honors section: CSHR2055 International Communication)    3
CSEN1020    Argument & Research (Honors section: CSHR1025)    3
CSCM1030    Public Speaking & Persuasion (Honors section: CSHR1035 Honors Speech, Rhetoric, and Culture)    3
CSCM2040    Professional Communication in Workplace (Honors section: CSHR2045 Organizational Communication)    3
ECON1010    Survey of Economics (Honors section: ECON1015)    3
HIST; or POLS History elective; select from HIST1100, HIST1200, HIST1500, HIST1600, HIST1700, HIST1800 (Honors section: HIST1105); OR Political Science elective POLS 1020 American National Government (HNRS: 1025)    3
MATH; or STAT1050; or 2110    Math Reasoning/Applications; OR Statistics (Honors section: STAT2125)    3
SOCI1010; or 1020   Principles of Sociology; OR Contemporary American Social Problems (Honors section: SOCI1025)    3
ENGL Literature Elective; select from 1040, 1050, 1060, 2030, 2040, 2055 (Honors section: HNRS2065), or 2080    3

MAJOR - 36 CREDITS REQUIRED

Minimum grade of "C" must be earned for each course in the major

Required courses – 30 credits

ENGL2000    Study of Literature    3
ENGL2010    Introduction to Nonfiction    3
ENGL2150    Storytelling Using Multiple Media    3
ENGL2540    Introduction to Linguistics    3
ENGL3010    Grammar & Editing    3
ENGL3020    Creative Writing    3
ENGL3500    Study of Persuasion    3
ENGL4010    Advanced Nonfiction Writing    3
ENGL4200    Professional Writing Capstone    3
ENGL4903    Internship    3

Required elective courses – 6 credits

ENGL - Select one (1) from the following: 3200 Fiction Writing; 3025 Technical Writing; 3110 History of the English Language; 3041 Sem In Lit: Selected Poets; 3042 Sem In Lit: Sel Amer Authors 3050 Sem In Lit: Major Brit/Irish Authors; 3060 Sem In Lit: Drama; 3070 Sem In Lit: Classic Novels; 4913 Internship extension    3
ENGL - Select one (1) from the following: 3200 Fiction Writing; 3025 Technical Writing; 3110 History of the English Language; 3041 Sem In Lit: Selected Poets; 3042 Sem In Lit: Sel Amer Authors 3050 Sem In Lit: Major Brit/Irish Authors; 3060 Sem In Lit: Drama; 3070 Sem In Lit: Classic Novels; 4913 Internship extension    3

OPEN ELECTIVES - 45 CREDITS MINIMUM REQUIRED

Program Learning Outcomes

Demonstrate a thorough understanding of context, audience, and purpose that is responsive to writing tasks. 
Generate original written work for a variety of genres and media that meets a high standard of professionalism. 
Analyze, evaluate, edit, and provide insight on alternatives for their own and others' writing. 
Synthesize research, their personal life experiences, and other perspectives to explore complex issues in original ways.

Student Learning Outcomes

Students will be able to:

Conduct inquiry and analysis creatively, critically, and ethically. 
Extract and construct meaning through reading, writing, and oral communication. 
Identify, evaluate, and reasonably use information in a variety of cultural and intercultural contexts. 

Career Preparation

As a graduate of RMU's BA in Professional Writing, you will be prepared to pursue careers in a wide variety of fields including technical and professional writing, publishing, editing, non-profit fundraising, and graduate studies in law or the humanities. Many of our students go on to entrepreneurial careers in writing, communications, and social media.

English is one of the top majors for law school applicants because it develops skills in thinking and reading critically. It allows students with strong reading and writing abilities to earn the high GPA they need to apply to law school. About 80% of English majors who applied to law schools were accepted, according to College Consensus (https://www.collegeconsensus.com/features/best-degrees-for-law-school/).

Chart provided by W.W. Norton, Inc.

Demand for Professional and Technical Writers

Technical Writers

Continuing expansion of scientific and technical products, and increased web-based product support increase opportunities for technical writers. The job growth is anticipated to be faster than the average for all occupations, growing 7 percent from 2019 to 2029.

Writers and Authors

Online and social media writers and authors who are confident using digital technology have an advantage in the job market. The anticipated decline in the publishing industry is expected to make job opportunities with newspapers and magazines very competitive. The 2019-2029 projection is a slight decline of 2 percent. Low-cost self-publishing choices are creating new opportunities for freelance writers to publish their work.

Editors

Editors plan, review, and revise material prior to publication. Employment is growing in
online media but declining in traditional print publications.

Fundraisers

Fundraisers plan and organize fundraising campaigns and events. The job growth projection is high at 14% from 2019 to 2029. English, including professional writing, is one of the preferred majors in this field.

Public Relations (PR) Specialists

An area of projected job growth of 7% (2019-2029). PR specialists create and maintain their organization's public image. English is one of the preferred majors. A professional portfolio and internship are typically required to demonstrate skills and competency.

Public Relations (PR) and Fundraising Managers

Employment in these areas is expected to grow more quickly than average, at 9%, due to the need for organizations to maintain their public image on social media.

Paralegals and Legal Assistants

This growth area at 10% (2019-2029) requires strong communication and data management skills in order to support lawyers in a variety of areas.

Lawyers

English, history, and political science are very common undergraduate majors for applicants to law school. Lawyers advise or represent individuals, businesses, or government agencies in legal matters. Lawyers must have an additional degree and must typically pass the state bar examination in order to practice.

Admissions and Tuition Information

The minimum GPA is 2.75 
Applicants with a GPA of 2.74-2.50 are considered for admission on a case by case basis.
SAT and ACT testing scores are now optional for freshman applicants.

Scholarships, Professional Opportunities & Student Organizations

Rune, the Robert Morris University Literary Magazine
Literature Out Loud, an RMU Radio podcast
Sigma Tau Delta, the English Honors Society
Creepy Conference, a regional conference of the local chapter of Sigma Tau Delta, the international English honor society
Professional Writing and English Studies Scholarships
Work-study and scholarship opportunities

Meet the Faculty

The School of Informatics, Humanities and Social Sciences faculty is a team of dedicated teacher-scholars, award-winning artists, practitioners, and academics who are committed to your long-term success.

Our Graduates Work at

RMU English majors have a variety of careers, including entrepreneurial as well as in education, in law, and in business. Here are some examples of the positions our alumni hold:

Bayer (communications director)
BNY Mellon (proposal writer)
Carnegie Mellon University (civic engagement)
Comma Girl Strategic Communications (founder and president)
Donally Boland and Assoc. (communications coordinator)
Easterseals (development coordinator)
Freelance editor 
Freelance social media director 
Girls Hope (director)
Jordan Marie Photography (founder and president)
KinderCare (teacher)
Michael Baker International (technical specialist)
Mining and Reclamation (communications)
Pittsburgh Penguins (staff writer)
PPG (communications director)
Presbyterian church (editorial assistant)
Robert Morris University (professor)

Testimonials

Mike Howie, Class of 2013

Copywriter, Thermo Fisher Scientific 

"RMU English gave me the writing abilities to stand out as a copywriter and marketer, and the critical reading skills to more fully understand the world around me. I only regret not taking more classes."

Laura Mihalcin, Class of 2019

Writer
Substitute Teacher, Riverside Beaver County 

"My experience with the RMU English program was special. I learned from brilliant professors who knew me-- not just my name, but really knew me as a person and student. Those professors opened my mind to new ideas and helped me to build confidence in my analytical reading and writing skills. I credit my professors with how prepared I was when I started teaching.

As I tell my students, writing is an important part of communication, especially in today's digital world. Strong, effective writing is critical in any profession since much, if not all, communication is done through emails. Becoming a better writer will also help you become a better reader. As digital sources become more prevalent in our society, it's more important than ever to be able to critically examine a text."   

Brittany Perrotte, Class of 2020

Substitute Teacher, Moon Area High School

"I have always had a passion for reading and writing, so I knew that whenever I attended Robert Morris University, I wanted to major in something related to English. I entered my first two years as an undecided student, but made sure to take a decent amount of classes that revolved around my favorite subject. I was sold after that. The English-based classes that I took at RMU were truly the most fascinating, alluring and passionate classes that I have ever taken part in. My professors guided me in so many ways and were truly enthusiastic to not only teach us, but to also have deep-rooted conversations about a novel or poem we had read in class. I graduated RMU feeling more than prepared to begin my first year of teaching my favorite subject. Overall, I am extremely pleased with my experience with the RMU English major program."

Danielle Hornyak, M.Ed. Class of 2012

Leadership Development Office, Robert Morris University

"I am a proud alumna of Robert Morris University. I received my Bachelor of Arts degree in English Studies in 2012. The faculty and the coursework that I completed provided me with the foundation and confidence to properly read and comprehend in-depth research articles and aided in the development of my critical thinking skills. Also, my English Studies degree from RMU granted me so many opportunities that I would not otherwise have had the chance to be a part of, if I had a degree that required a predetermined path. RMU's English Department and inspired me to pursue and complete my Master of Education degree in Higher Education Management at the University of Pittsburgh."

Cameron Bilger, class of 2017

Political Consultant

"The English Studies program at Robert Morris University provided me with the skills, knowledge, and creativity to excel in my career. It taught me to be adaptable and strategic in my writing."

 

 

 
Sample Courses:
These are some of the classes for students in this academic program:
English, Writing, Literature
Communication Skills, Economics, Humanities, History, Sciences, etc.
Top Employers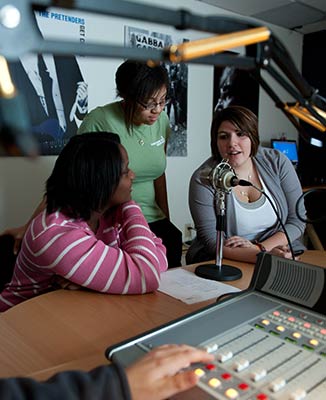 School of Informatics, Humanities and Social Sciences
Focus on delivering information in a way that makes an impact. Create images that capture attention, compose words that inspire, and design technology that changes how we live.
Visit School Site