Economics B.A.
Apply Today
Explore and analyze the world through the lens of economics by studying how the economy works and how human behavior impacts it. 
The B.A. in Economics provides transferable skills. Students learn to use economic data and models to analyze economic trends, evaluate competitiveness, and make strategic plans. The program combines insights from behavioral economics to human resource management, saving, investment, and wealth management decisions. Understanding economic concepts enables us to make better financial decisions and shape public policy, as well as allowing us to explore the world in a new way. Our B.A. in Economics program prepares students to meet the growing demand for skilled professionals in both public and private sectors.
Flexible program: The economics program gives students flexibility to add complementary minors to the majors, such as Business, International Studies, Political Science, Legal Studies, Data Analytics, or Web Design.
Diverse applications: Economics intersects many disciplines. Its applications include, for example, finance, accounting, legal studies, health, gender, environment, education, and immigration.
Excellent preparation for law school: Many former students have continued their studies to law schools, including those who have received full scholarships from their law programs
High achieving students: Economics graduates have excelled in various ways, including winning many awards, such as a year-long Presidential Fellowship from the Center for the Study of the Presidency.
Award-winning faculty: The program's faculty have received numerous awards, including the Undergraduate Teaching Innovation Award from the Middle Atlantic Association of Colleges of Business Administration. Faculty members regularly present their scholarship at the most influential economic conferences, such as the American Economic Association Annual Meetings.
Economics Information Session
Degree Requirements and Courses

The B.A. in Economics degree consists of 120 credit hours of coursework:

MAJOR – 33 Credits Required

RESTRICTED COURSES – 12 Credits Required

RMU CORE COURSES – 39 Credits Required

OPEN ELECTIVES – 36 Credits Required

Program Learning Outcomes

The following are some of the key student learning outcomes. Through coursework, students will be able to:

Demonstrate a solid understanding of the operation of national and global markets and the macroeconomic environment in order to effectively manage and operate a business; 
Use reliable economic data to analyze industry and country-level economic trends, evaluate competitiveness, and make strategic plans that seek to influence the actions and reactions of rival firms and protect profit in the long run; 
Apply insights from behavioral economics to human resource management, saving, investment, and wealth management decisions; 
Demonstrate critical and interdisciplinary thinking skills by applying the concepts of opportunity costs, sunk cost, and marginal analysis to routine decisions of managing the daily operations of an organization, as well as long-term investment decisions; 
Explain the potential as well as limits of macroeconomic policy to reduce the duration and severity of a recession or control inflation; 
Explain the rationale as well as intended and unintended effects of government policies and regulation. 

Career Preparation and Demand for Economists

As graduates of RMU's Bachelor of Arts in Economics degree program, students will be well-prepared for careers in business, industry, banking, and government, as well as for graduate programs in economics and social sciences or advanced professional education in law. Our economics graduates have continued to law schools or other graduate programs as well as to employment within government and a variety of industries. In particular, our graduates work in auditing, environmental planning, market and economic analysis, budgeting, real estate, finance, and insurance.

Be ready to meet this demand by earning your bachelor's degree in Economics at Robert Morris University.

According to the U.S. Bureau of Labor Statistics, employment of economists is projected to grow 14 percent from 2019 to 2029, much faster than the average for all occupations. Job prospects should be best for those with strong analytical skills, and experience using statistical analysis software. Pursuing graduate study in economics further enhances employment opportunities.  

The May 2020 median annual wages 

for economists    : $108,350 per year 
In the top industries for economists
Finance and insurance: $129,060

Federal government, excluding postal service: $125,350
Management, scientific, and technical consulting services: $111,340
State government, excluding education and hospitals: $73,510

Source: Bureau of Labor Statistics, U.S. Department of Labor, Occupational Outlook Handbook, Economists, at https://www.bls.gov/ooh/life-physical-and-social-science/economists.htm (visited April 14, 2021).

Admissions and Tuition Information

The minimum GPA is 2.75 
Applicants with a GPA of 2.50-2.74 are considered for admission on a case by case basis.
SAT and ACT testing scores are now optional for freshman applicants.

Scholarships, Professional Opportunities & Student Organizations

Scholarships, internships and professional opportunities are available throughout the program.

Meet the Faculty

The School of Informatics, Humanities and Social Sciences faculty is a team of dedicated teacher-scholars, award-winning artists, practitioners, and academics who are committed to your long-term success.

Contact Us

Zhou Yang, Ph.D.
Associate Professor of Economics
Department of Social Sciences
Email: yangz@rmu.edu

Kathryn Dennick-Brecht, Ed.D.
Department Head, Social Sciences
Professor of Sociology
Department of Social Sciences
Email: brecht@rmu.edu

Our Graduates Work at

Our graduates work in areas such as auditing, environmental planning, market and economic analysis, budgeting, real estate, finance, and insurance. Particular jobs include personal financial advisor, healthcare analytics specialist, financial analyst, statistician, and credit analyst.

A sample of employers who have hired our graduates:

Alaska Aces 
American Capital Group
Axcess Financial
BDO USA
BNY Mellon
Erie Insurance
FDIC
FedEx
Goldman Sachs Ayco 
Hofbrauhaus
PNC
Merrill Lynch Wealth Management
Mitsubishi Power Electric Products 
MR Financial Group 
Office of the Comptroller of the Currency (OCC), U.S. Department of Treasury 
Schmidt Technology
Selker Advisors

Our graduates have continued in graduate and law programs at schools such as:

City University of London
Duquesne University
Johns Hopkins University
McMaster University
Penn State University
University of Notre Dame
University of Western Ontario
Vanderbilt University

Testimonials

Julian Gregorio, Class of 2020
Dual Major in Economics and Financial Planning with minors in Accounting and English 
"My economics degree from RMU is priceless. Econ taught me how to look at the world critically, how to analyze policy proposals thoughtfully and, simply, how to think. You need to be able to both zoom in on details and look at the big picture. I am certain my degree helped me get into law school and, I'm finding, during law school too — but the best thing about economics is that it prepares you for a calling in such a wide variety of fields, from banking, to government, to grad school, and everything in between." 

Samantha Medasie, Class of 2020
Economics Major with a minor in Human Resources Management, Honors Program
"I started as an Undeclared Business major and chose economics after really enjoying Principles of Macroeconomics with Dr. Yang. Economics seemed like a great way to combine my interests in policy and business. I loved the economics program. The faculty is so knowledgeable, engaging, and supportive, and I really enjoyed learning from all of them. I feel that economics prepared me so well for law school. I am able to understand the real-world economic impact of policy and laws, and I have developed great critical thinking skills. I would highly recommend this program to pre-law students." 

Stanley Marciniak, Class of 2018
Economics Major, Honors Program
"Economics, simply put, is the study of how our world works: why markets thrive, how policy impacts business, and what drives improvements to our standard of living. Earning an economics degree cultivates unparalleled analytical, logical, and critical thinking skills that serve tomorrow's leaders in government, law, business, and academia. Economics is something that sticks with you. Being a law student, it has benefitted me tremendously and it's a study I wish everyone in my profession understood." 
Sample Courses:
These are some of the classes for students in this academic program:
Economics of Entrepreneurship
Principles of Macroeconomics
Behavioral Economics
Economics, Political Science
Communication Skills, Economics, Humanities, History, Sciences, etc.
Top Employers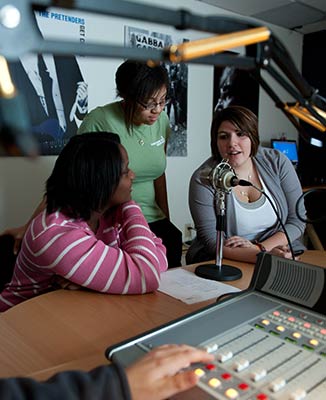 School of Informatics, Humanities and Social Sciences
Focus on delivering information in a way that makes an impact. Create images that capture attention, compose words that inspire, and design technology that changes how we live.
Visit School Site