Apply Today
The History BA degree at Robert Morris University provides a well-rounded education. The program emphasizes critical thinking and interpretive analysis, and instills facility in communicating and conducting research. 
The curriculum is both challenging and flexible, allowing students to shape their education around their particular areas of interest.  Courses are taught by faculty, not graduate assistants, with small class sizes, giving students personal attention in their education. 
Graduates go on to careers in education, research, communication, law, government, and nonprofit organizations. Jobs include teacher, museum director, journalist, corporate historian, and lawyer.
Interested students in this course of study may be eligible for the Early Law School Admission Program.
Contact Information
Kathryn Dennick-Brecht, Ed.D. 
Department Head, Social Sciences
brecht@rmu.edu
412-397-5419 
John M. McCarthy, Ph.D. 
Professor of History 
mccarthy@rmu.edu
412-397-5412
4-Year Course Plan
Practicum Information

All traditional undergraduate students majoring in the social sciences must complete a practicum their senior year. This involves 120 hours of documented experience at an internship related to the student's field that has been pre-approved by the student's faculty mentor and the department head.

Participation in professional activities allows students to experience the work environment in their chosen field, make informed career choices, and enhance their employment credentials. These experiences reinforce the connection between professional and liberal learning through the application of classroom theories to actual occupational problems. 

Completing the practicum involves keeping a journal with daily entries and weekly reflections and a timesheet signed by the supervisor and writing a 12-page paper comparing and contrasting their experiences in the practicum with the theories and information presented in the social sciences coursework which was completed at RMU. It should also explain why the site was selected for the practicum and give any recommendations for future social sciences students about the practicum experience.

More details are available here.
History Study Tours

Practicum

History study tours offer RMU students an opportunity for engaged learning through visitation to historical sites, museums, battlefields, and other organizations. RMU currently offers one-credit history study tours for Colonial/Revolutionary America, and for the Civil War.

Students gain first person perspective into history by walking the ground where key events occurred, viewing and interpreting historical artifacts, and interacting with public history professionals to comprehend how our history is presented to the general public. 

Tours generally are six days/five nights in length and occur in the spring semester during the week immediately following commencement. The courses are taught online during the semester to provide students with an overview of the history they then experience on the trip. An additional charge for bus travel, housing, guided tours, etc. is assessed for students who sign up for the class. 

The Civil War Study Tour course, for example, spent the first week of May visiting some of the war's most influential sites and battlefields like Harper's Ferry, Mechanicsville, Richmond, Cold Harbor, Fredericksburg, Chancellorsville, Spotsylvania, Antietam, and Gettysburg.
Sample Courses:
These are some of the classes for students in this academic program:
History of Urban America
American Revolution
Rome: Republic & Empire
History, Political Science
Communication Skills, Economics, Humanities, History, Sciences, etc.
Top Employers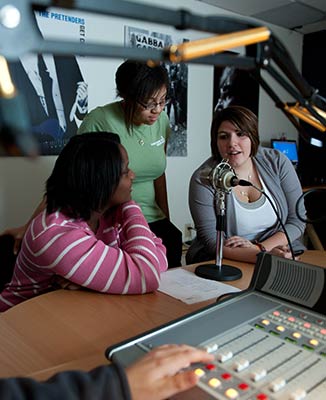 School of Informatics, Humanities and Social Sciences
Focus on delivering information in a way that makes an impact. Create images that capture attention, compose words that inspire, and design technology that changes how we live.
Visit School Site