Middle Level Education B.S.
Apply Today
The B.S. in Middle Level Education prepares students for teaching positions in grades 4-8. The program provides students with a solid background in educational theory and practice while simultaneously equipping them with the skills and knowledge needed to create and maintain a rich learning environment in the classroom. Students choose from four possible concentrations: English, Science, Social Studies, or Math.
Graduates go on to work in education as English, science, social studies, and math teachers in public and private middle schools.
The initial teacher preparation and advanced educator programs in the School of Nursing, Education, and Human Studies have been accredited by the Council for the Accreditation of Educator Preparation (CAEP).

Contact Information
Susan W. Parker, Ph.D.
Department Head, Education
parkers@rmu.edu
412-397-6245
4-Year Course Plan: English/Language

English Specialization
4-Year Course Plan: Math

Math Specialization
4-Year Course Plan: Science

Freshman Year, Fall

Freshman Year, Spring

Sophomore Year, Fall

Sophomore Year, Spring

CSCM 2040 Professional Communication In the Workplace
ELIT 1070 Children's Literature
ECON 1010 Survey of Economies
HUMA 1010 Humanities: Art/Music
GEOG 1020 World Geography
SPED3010 Intro to Special Education: PreK-12

Junior Year, Fall

Junior Year, Spring

Senior Year, Fall

Senior Year, Spring

MLED 4200 Supervised Teaching (9 credits)
EDUC4210 Professional Topics Seminar (3 credits)

Science Specialization
4-Year Course Plan: Social Studies

Social Studies Specialization
Admission Requirements

To receive acceptance to Robert Morris University's education programs, students must meet one of the following sets of academic criteria listed here:

Additional admission requirements for RMU education programs are available on this page.
Sample Courses:
These are some of the classes for students in this academic program:
Educational Psychology & Classroom Management
Curriculum Design & Instruction
Children's Literature
Depends on Chosen Concentration
Communication Skills, Economics, Humanities, History, Sciences, etc.
Top Employers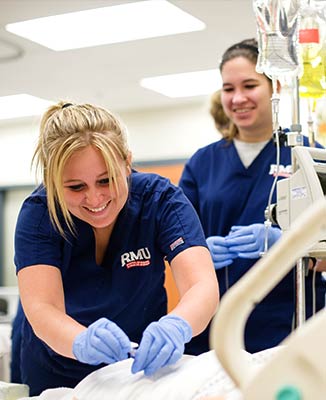 School of Nursing, Education and Human Studies
More than ever before, today's complex healthcare environment needs skilled clinicians,  expert communicators, and good people. Our students are about more than a major.
Visit School Site