Health Sciences B.S. (Population Health)
Apply Today
The B.S. in Health Sciences with a Population Health concentration will prepare you to make a difference in communities by addressing healthcare disparities and inequities as a means to achieving better outcomes for all. Opportunities for population health specialists include community health program coordinators, medical sales representatives, behavior support technicians, home health aides, and medical research coordinators.
The program addresses concepts inherent in public health, including social determinants of health, access to care, disease prevention, and effective strategies for identifying resources to promote healthy lifestyles. It combines foundational science courses, including life and behavioral sciences, with a health sciences core primarily from psychology and health services administration. The curriculum includes two internships, one of which can optionally be replaced with a research project based on student interests. Further health electives can be tailored to the professional aspirations of each individual student in consultation with the faculty advisor and the success coach, maximizing your preparation for and success in entering the job market. 
The RMU School of Nursing, Education and Human Studies is well-positioned to meet the needs of the region's growing healthcare industry. The university provides a broad array of professional pathways in both clinical and non-clinical areas, management and leadership, pre-medical and allied health fields, and community health.
Health Sciences B.S. Concentrations: General | Pre-professional Allied Health | Population Health
4-Year Course Plan

Freshman Year, Fall - 16 credits

Freshman Year, Spring - 16 credits

Sophomore Year, Fall - 16 credits

Sophomore Year, Spring - 15 credits

Junior Year, Fall - 15 credits

Junior Year, Spring - 15 credits

Senior Year, Fall - 15 credits

Senior Year, Spring - 12 credits

HLSC4050 Healthcare Trends and Issues
HLSC4903 Health Sciences Internship I
HLSC4803 Health Science Thesis or HLSC4906 Health Sciences Internship II
Restricted Elective
Sample Courses:
These are some of the classes for students in this academic program:
Healthcare Trends & Issues
Fundamentals of Human Biology
Social Psychology
67 Sciences, Psychology, Health Services Administration
Communication Skills, Economics, Humanities, History, Sciences, etc.
Top Employers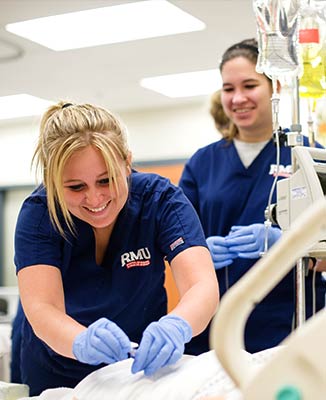 School of Nursing, Education and Human Studies
More than ever before, today's complex healthcare environment needs skilled clinicians,  expert communicators, and good people. Our students are about more than a major.
Visit School Site