Advanced Medical Imaging Technology B.S.
Apply Today
The B.S. in Advanced Medical Imaging Technology degree program is the only four-year nuclear medicine program in the Pittsburgh area, and prepares students to become dual-certified imaging technologists. Hospital systems increasingly want professionals who are credentialed in multiple imaging techniques, rather than a collection of professionals each working on a single method. 
Unlike other programs of study that prepare students to be credentialed in only one kind of imaging, the Advanced Medical Imaging Technology program at RMU offers a bachelor's of science degree with nuclear medicine technology as the primary pathway, and secondary pathways to computed tomography (CT), magnetic resonance imaging (MRI), and positron emission tomography (PET). The four-year program in Advanced Medical Imaging includes coursework required for all of these certifications, and faculty members will work with students to help them fulfill clinical requirements.
Students are prepared to sit for the Nuclear Medicine Technology Certification Board (NMTCB) or American Registry of Radiological Technologists (ARRT) certification exam. Graduates go on to work in in hospitals, physician offices, and medical and diagnostic laboratories. Jobs include nuclear medicine technologist, MRI technologist, and CT technologist.
Contact Information
Samantha Monda, Ph.D., NCC, CMPC
Department Head
monda@rmu.edu
412-397-6036
Dr. Angela Macci Bires, Ed.D., M.P.M., R.T.(N), CNMT
Program Coordinator
bires@rmu.edu
412-397-5410
4-Year Course Plan

Freshman Year, Fall

CHEM 1210 Chemistry I
CHEM 1215 Chemistry I Lab
NMED 1100 Introduction to Hospital 
CSEN 1010/ 1020 Comm Skills I or II
MATH 1010 or higher level College Math or higher level

Freshman Year, Spring

PHYS 1010 Physics for Allied Health
PHYS 1015 Physics for Allied Health Lab
BIOL 1210 A & P I
BIOL 1215 A & P Lab I
PSYC 1010 General Psychology
CSEN 1020/ CSCM 1030    Comm Skills II or III

Sophomore Year, Fall

BIOL 1220 A & P II
BIOL 1225 A & P II Lab
ECON 1010 Survey of Economics
CSCM 1030/ 2040 Comm Skills III or IV
SOCI 1010 Principles of Sociology
STAT 2110 Statistics

Sophomore Year, Spring

NMED 2210 NM Physics 
CSCM 2040/ 2050 Comm Skills IV or V
INFS 3440 Healthcare Informatics
BIOL 2370 Microbiology
BIOL 2380 Microbiology Lab
NURS 2015 Pathophysiology

Junior Year, Fall

Junior Year, Spring

NMED 3008 Clinical Techniques & Practice
NMED 3009 NM Tech & Tech
NMED 3100 Fund of Healthcare Admin
NMED 3010 Instrumentation & QC I
NMED 3200 PET Tech & Techniques
NMED 3011 Radiation Biology
NMED 3006 Computer Apps in NM

Summer term

NMED 4013 Clinical Practice I
NMED 4016 Clinical Practice II
NMED 4020 Nuclear Cardiology

Senior Year, Fall

NMED 4043 Cross-sectional Anatomy 
NMED 4018 Clinical Practice III
NMED 4019 Clinical Practice IV
NMED 4021 PET Clinical Practice & Research
NMED 4023 CT Technology
NMED 4022 Seminar 

Senior Year, Spring

HIST/POLS X History/Political Science
NMED 4024 MRI Technology
ELIT XXXX  Literature
NMED 4600 Advanced Imaging Modalities
Sample Courses:
These are some of the classes for students in this academic program:
Nuclear Cardiology
Radiopharmacy
MRI Technology
Nuclear Medicine, Biology, Statistics
Communication Skills, Economics, Humanities, History, Sciences, etc.
Top Employers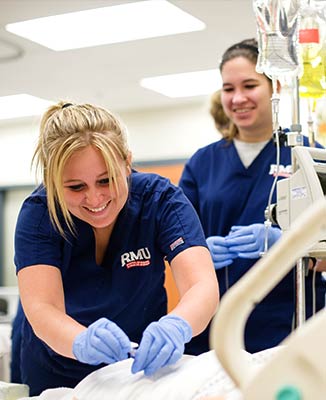 School of Nursing, Education and Human Studies
More than ever before, today's complex healthcare environment needs skilled clinicians,  expert communicators, and good people. Our students are about more than a major.
Visit School Site