Psychology B.S. (Industrial-Organizational Psychology)
Apply Today
The industrial-organizational psychology concentration is concerned with the scientific study of working, and the application of that science to workplace issues facing individuals, teams, and organizations. In this fast-growing field, the scientific method is applied to investigate issues of critical relevance to individuals, businesses, and society. Coursework includes business classes on management theory and organizational behavior.
Students will have an opportunity to complete a psychology thesis and a 120-hour practicum.
Interested students in this course of study may be eligible for the Early Law School Admission Program.
Contact Information
Samantha Monda, Ph.D., NCC, CMPC
Interim Department Head, Psychology
monda@rmu.edu
412-397-6036
David A. Wheeler, Ph.D. 
Associate Professor of Psychology 
wheeler@rmu.edu
412-397-5413
4-Year Course Plan

Freshman Year, Fall

Freshman Year, Spring

Sophomore Year, Fall

Sophomore Year, Spring

Junior Year, Fall

Junior Year, Spring

PSYC3810 Industrial Psychology
Course in Minor
Course in Minor
Open Elective
Open Elective

Senior Year, Fall

Senior Year, Spring

Course in Minor
Open Elective
Open Elective
Open Elective
Open Elective
Practicum Information

All traditional undergraduate students majoring in the social sciences must complete a practicum their senior year. This involves 120 hours of documented experience at an internship related to the student's field that has been pre-approved by the student's faculty mentor and the department head.

Participation in professional activities allows students to experience the work environment in their chosen field, make informed career choices, and enhance their employment credentials. These experiences reinforce the connection between professional and liberal learning through the application of classroom theories to actual occupational problems. 

Completing the practicum involves keeping a journal with daily entries and weekly reflections and a timesheet signed by the supervisor and writing a 12-page paper comparing and contrasting their experiences in the practicum with the theories and information presented in the social sciences coursework which was completed at RMU. It should also explain why the site was selected for the practicum and give any recommendations for future social sciences students about the practicum experience.

More details are available here.
Sample Courses:
These are some of the classes for students in this academic program:
Industrial Psychology
Human Resource Management
Psychological Assessment
Communication Skills, Economics, Humanities, History, Sciences, etc.
Top Employers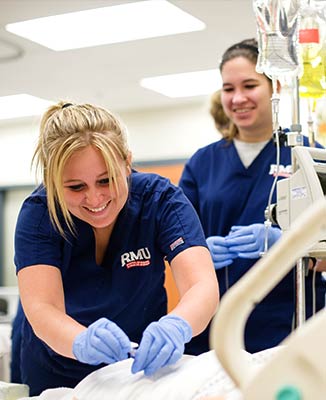 School of Nursing, Education and Human Studies
More than ever before, today's complex healthcare environment needs skilled clinicians,  expert communicators, and good people. Our students are about more than a major.
Visit School Site