Apply Today
A concentration in Special Education can be combined with B.S. degree programs in Early Childhood Education (PreK-4). The program prepares candidates with the knowledge base, skills, and competencies necessary to meet the needs of students with disabilities in multiple settings.
Throughout the program, teacher candidates will develop personal and professional competencies by participating in both theoretical and applied experiences. All teacher candidates complete a set of core experiences in professional education, including participation in guided fieldwork.
The initial teacher preparation and advanced educator programs in the School of Education and Social Sciences have been accredited by the Council for the Accreditation of Educator Preparation (CAEP).

Contact Information
Vicki J. Donne, D.Ed. 
Department Head, Education 
donne@rmu.edu
412-397-5465
Admission Requirements

To receive acceptance to Robert Morris University's education programs, students must meet one of the following sets of academic criteria listed here:

Additional admission requirements for RMU education programs are available on this page.
Additional Program Details

Consisting of education alumni, teachers, and school administrators, the Education Advisory Board provides advice and input on the curriculum and program requirements to help keep RMU at the cutting edge of teacher education.

Enrolled Students

An enrolled student is admitted to a teacher preparation program but has not completed the program during the academic year. Demographic information on enrolled students is here:

All student teachers complete a Teacher Work Sample (TWS) assignment, which demonstrates professional competencies, skills, and knowledge acquired during the teacher education program. The Aggregate Teacher Work Sample Ratings are here:

Program Completers

An individual who completed the program during the academic year is a program completer and not an enrolled student. Information on program completers are here:

Students must demonstrate professional competency knowledge by passing the Praxis or PECT exam in the content/discipline area. To see information on the Praxis II and PECT results for program completers from 2012-2017, click here.

Each student teacher is formally observed at least three times to assess their preparedness for the classroom. Written evaluations by the University Supervisor are scored using the PDE 430 Statewide Evaluation Form for Student Professional Knowledge. Program completers' PDE 430 ratings are here:
Sample Courses:
These are some of the classes for students in this academic program:
Teaching Students with High-Incidence Disabilities
Language Communication and Assistive Technologies
Special Education: Assessment, Evaluations and IEP's
Communication Skills, Economics, Humanities, History, Sciences, etc.
Top Employers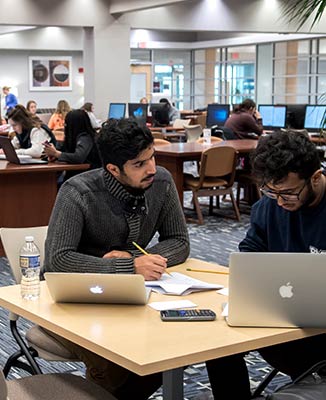 School of Education and Social Sciences
Build your understanding of the essentials of human nature. Maximize your career potential by integrating technology and communication skills with the application of theory into practice.
Visit School Site