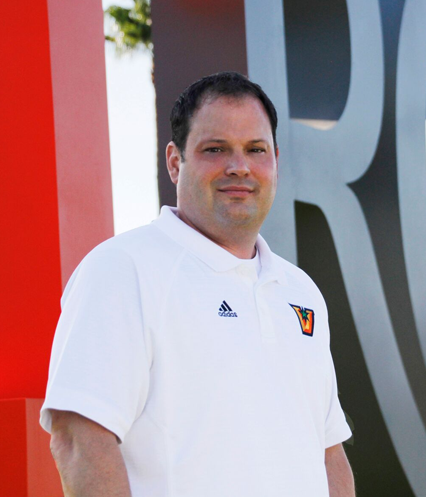 "I hope to look back over the next 10-20 years and realize that a lot of us today were a big part of this university's foundation."
Deep in the heart of Texas — about as deep as you can go — sits a university that's far lesser known than some of the state's iconic institutions. Chris King '94 wants to change that. "We're going to be the next big, bad university in Texas in the next decade," says King, director of athletics for the University of Texas Rio Grande Valley. It's a Texas-sized goal for a school with a mouthful of a moniker, but one that King seems ideally suited to pursue.
Honored this year at the National Association of Collegiate Directors of Athletics annual conference with an Under Armour AD of the Year award, King is part of an executive leadership team committed to putting UGTRV on the map. That vision extends well beyond its Edinburg campus, roughly 15 miles from the Mexican border. With 30,000 students across multiple campuses in the Rio Grande valley, a new medical school, and 16 NCAA Division I sports teams, the expectations are high.
UTRGV's roots run deep, though its official founding only came in 2015. King began his career there in 2009 as director of athletics for a predecessor institution, UT-Pan American. Under his leadership, the Vaqueros are on a growth path, including facility renovations and a new complex for soccer and track and field. Signature achievements for the athletic program since King's arrival include joining the Western Athletic Conference, boosting cumulative student-athlete GPAs and graduation rates from 54 percent to 78 percent, and establishing men's and women's soccer teams, which have quickly become competitive. The men's team has knocked off a top 25 program each of the last two years, while the women's team finished third last
season in only its fourth year of existence. "With the passion and pride in the valley for soccer — our institution and the region are both about 90 percent Hispanic — we knew both soccer programs would be successful for us," King says.
The road he traveled was circuitous and challenging, but a blue-collar childhood and tireless work ethic paved the way. A native of Apollo, King and his twin sister watched their mom work two jobs, often not getting home until midnight, and saw their dad put himself through graduate school while running a photography studio. "That was the mentality in the town," he says. "You just did what you had to do to get by."
For King, that meant two paper routes and long hours at the local supermarket, sometimes unloading delivery trucks at 3 a.m. Summers during college he worked in a steel mill, a sausage factory, and a mothballed nuclear power plant, where he used a jackhammer to break up the concrete floor of the containment building.
After transferring from Penn State to RMU's sport management program, he took 18 credits a semester while working up to 40-hour weeks, and also finished three internships. "Transferring to RMU was the best decision I ever made," he says. "I met incredible mentors and faculty."
His career path in college athletics took him to Liberty University, the University of Central Florida, and the University of Alabama, where he became associate athletic director for compliance in 2002, just after the NCAA had slapped the Crimson Tide with severe sanctions. In 2009, King came to Texas, looking to build a program in a region poised for growth. "When I came here for the interview, I assumed I'd see tumbleweeds all over the place," he says. "But it looked like Ft. Lauderdale, with palm trees everywhere. It's a beautiful part of the country, the beach is only an hour away, and it's been a great place for my wife and me to raise our two daughters."
King sees much more work ahead in the quest for a big, bad UTRGV, such as becoming a tenant in the region's new $88 million minor league basketball arena and perhaps adding a football program. More heavy lifting for sure, but the hard-working kid from Apollo seems well equipped for the task. "We have a dynamic opportunity, with the growth of the region and the resources we're putting in place," he says. "I hope to look back over the next 10-20 years and realize that a lot of us today were a big part of this university's foundation."