Newsroom
Robert Morris University
2020 Presidential Transformational Award Winner
Accounting and finance double major Margo Gamble studied Arabic abroad for two summers and also earned a master's degree in her four years at RMU.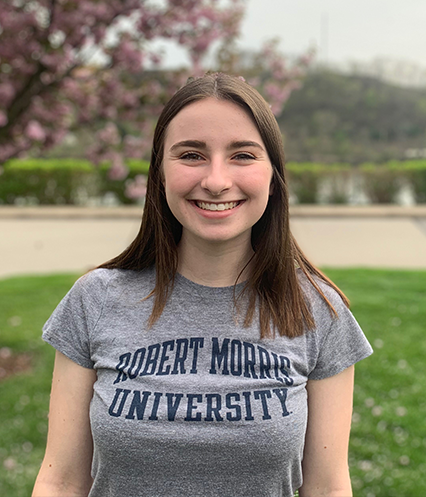 While she watches Robert Morris University's 95th Commencement online tomorrow, Margo Gamble says she will be thinking more about how the last four years have changed her life than about how the last two months have.
Gamble not only earned a bachelor's degree with a double major in accounting and finance in four years at RMU, but also completed a master's degree in data analytics, finished two professional internships, and spent two summers overseas learning Arabic. The Ligonier resident is the first person in her family to earn a B.S. or an M.S. degree. She is the recipient of the 2020 Presidential Transformational Award, RMU's most prestigious undergraduate honor.
"It's definitely not the senior year that I had suspected," Gamble said. "But I've been reflecting on the fact that I'm almost done. And it still feels good. I'm getting the degree and I have a secure job upon graduation, so I'm feeling very lucky and grateful. I'm very excited to say I'm an alum of Robert Morris."
Gamble will join her fellow members of the Class of 2020 online tomorrow at 9 a.m. to watch a virtual commencement ceremony with RMU President Chris Howard, deans and faculty. The ceremony will be broadcast on the university's Facebook page and will be available for later viewing on the RMU's YouTube channel. The commencement speaker is Brenda Lauderback, an alumna and the chairman of the board of Denny's Inc.
RMU also intends to hold a commencement ceremony on campus in the fall, as soon as it is safe to do so. In total, the university will award 876 bachelor's degrees, 346 master's degrees, and 80 doctoral degrees to this year's graduating class.
Gamble, who will account for two of those, had never traveled outside the country before coming to RMU and was not interested in language study. Then as a freshman, she began attending informal Arabic classes taught by international students from Saudi Arabia.
"That drew me to it, because I came from a small town and never really experienced people of a different religion and different culture," Gamble said.
She spent the last two summers studying abroad, first in Oman, then last year in Morocco. Eventually she hopes to work abroad, possibly for the federal government. For now she will begin studying for her CPA exam and preparing for a job that starts this fall Downtown at KPMG as an audit associate.
Gamble credited Rich Archer, her professional mentor in RMU's Women's Leadership and Mentorship Program, for helping her to make the connection at KPMG. Archer, an RMU alumnus and member of the university board of trustees, is a partner at the accounting firm's Pittsburgh office.