Business Administration B.S. (Sport Management)
Apply Today
The B.S. in Business Administration with a concentration in Sport Management helps students understand the depth, breadth, and unique character of the sport and recreation industry. Graduates of the program comprehend the priority of networking abilities for employment and career advancement in the industry, can communicate effectively and professionally, and employ leadership and interpersonal skills to effectively manage. With the 4+1 integrated degree program, students can go on to earn their M.B.A. with only one additional year of study.
Graduates hold positions in associations and leagues, fitness clubs, intercollegiate and high school athletics, parks and recreation, professional sports teams, sporting goods companies, events and facilities,and sport marketing. Jobs include account executive, athletic director, coach, event coordinator, and marketing coordinator.
Interested students in this course of study may be eligible for the Early Law School Admission Program.
Contact Information
David Synowka 
Email: synowka@rmu.edu
Phone: 412-397-6388
Fax: 412-397-2217
Room: Massey Hall 330
4-Year Course Plan

* All Business Electives must be a 3 or 4 level course
Sample Courses:
These are some of the classes for students in this academic program:
Sport Marketing
Survey of World Wrestling Entertainment (WWE)
Applied Sport Analytics
Sport Marketing, Applied Sport Analytics, Management Principles of Sport, Finance, Accounting
Communication Skills, Economics, Humanities, History, Sciences, etc.
Top Employers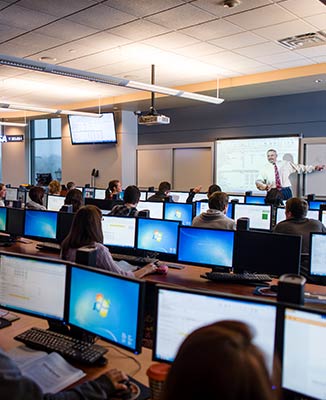 Rockwell School of Business
For nearly a century, our business students have learned to excel in a demanding professional world. With corporate connections and expert faculty mentors, our heritage is your future.
Visit School Site