Student Life
Getting involved with student activities offers the opportunity to make lasting memories and forge lifelong friendships.
RMU offers over 130 student clubs and organizations. Each student has a unique experience at RMU, and the wide variety of offerings ensures there is a place for you to get involved.
RMU students can visit rmu.edu/revolution to connect with organizations and see all of the exciting events on campus!
The Division of Student Life integrates the University mission and core values into our practices, and develops and coordinates student services and opportunities that are designed and managed with specific student learning and personal development outcomes in mind.  Departments within the division coordinate programming efforts in teams that include professional development, personal growth, active involvement, and civic responsibility. Departments within the the division strive to meet specific student needs and provide general student direction and guidance, including referrals to resources available both internal and external to the University.
More than half of all students — and more than 85% of freshmen — live in campus housing.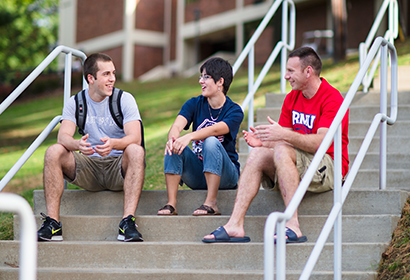 Located in the heart of RMU's campus, the Center for Student Success offers a variety of free services to undergraduate students.
Other Student Life Resources

Campus Ministry

The Ann and Alvin Rogal Family Chapel is designed to serve the needs of a growing and diverse student body by providing a central gathering place attuned to the more spiritual aspects of campus life.

The Rogal Chapel is non-denominational, open to all, and available to all faiths represented on campus and will remain unassigned to any specific clergy or faith; is available for structured worship and services, unstructured worship, private prayer and contemplation by individuals or groups; and is available for scheduled programs (spiritual worships, memorial services, weddings, etc). Normally, no more than 1/3 of the weekly time will be used for scheduled programming.

All Rogal Chapel reservations must be made through the Conference and Facility Services Office by calling 412-397-4997. Generally speaking, scheduling is on a first-come, first-serve basis and is at the discretion of the University. Alternate facilities may be assigned should scheduling conditions warrant such action.

We would like to include you in our prayers. Please email your specific prayer requests to us. You do not need to include your name if you prefer not to, and your request can be as detailed or brief as you like.

Greek Life

It is our vision to create a model community of social fraternities and sororities at Robert Morris University that achieves national recognition for its commitment to honoring shared values, building empowered students, and creating engaged and successful alumni. We believe that when fraternity and sorority is done right there is no better comprehensive student development experience in higher education.

The RMU Greek Life experience is nationally-recognized for emphasizing three core experiences: personal development, lifelong support, and service to others. For this reason, students in RMU Greek Life are more likely to stay enrolled at RMU, earn higher GPAs, complete more areas of the Student Engagement Transcript, and are more likely to graduate on time.

Click here to schedule a meeting with the Greek Life advisor