RMU Bands
Engage your passion for performance. RMU Bands put on a show everywhere they go.
Robert Morris University bands and performance ensembles appear at concerts, athletic events both at home and throughout the United States, parades, and national dance competitions. Band members demonstrate excellence in academics and musicianship.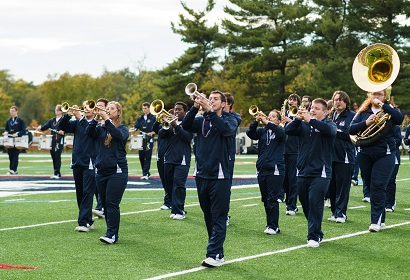 Marching Show Band performs at Colonials home football games, high school band festivals, and community events and parades. It is an exciting and dynamic college marching band with a driving sound and a reputation for entertaining shows.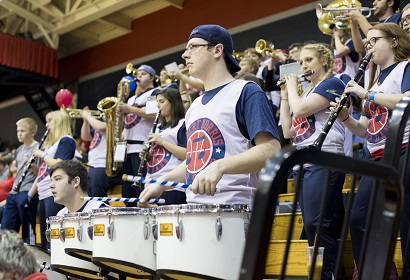 Pep Band performs at home games of the Colonials men's and women's basketball and hockey teams and travels to playoff games and tournaments. A repertoire of traditional songs and modern hits provides for a fun, high-energy environment.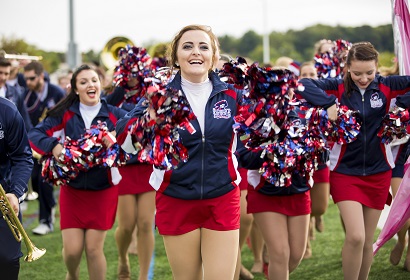 Auxiliary includes the color guard, majorettes, and dance team and promotes Colonial pride at home football games, parades, pep rallies, band festivals, and other special events. The dance team competes in national tournaments and is active in community service and fundraising for charity.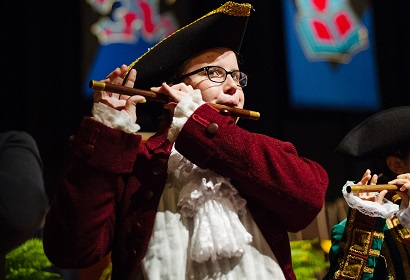 Colonial Fife and Drum Corps brings a unique musical sound to special university events such as the annual Commencement ceremony, performing on period instruments and dressed in Colonial-era costumes.
Jazz Colonials perform at university events and also present winter and spring concerts.
Wind Ensemble performs two concerts each year and provides music for the annual Commencement ceremonies.
See us on Instagram: @rmuband | @rmumajorettes | @rmuguard | @rmudt
Join RMU Bands
Every fall and spring, we invite high school students interested in RMU to perform with us at a Colonials football, basketball, or hockey game. If you would like to join in or just learn more about RMU Bands, contact:
Scott Miller
Director of Bands
studentlife@rmu.edu
412-397-6018
Students interested in joining for the 2022-2023 academic year should register here.