Rooney International Visiting Scholar Program
The Rooney International Visiting Scholar Program broadens the global perspective of Robert Morris University by offering international scholars the opportunity to spend a semester in residence on campus. Rooney Scholars can teach a course, deliver presentations and guest lectures, and collaborate with RMU faculty on joint research projects.
Apply to be a Rooney Scholar
ELIGIBILITY: Applicants must have a Ph.D. or an advanced degree in a discipline offered at Robert Morris University, or significant experience in an area of cultural or humanitarian interest to the university. Applicants should have a distinguished academic and/or professional record and must be committed to excellence in teaching and learning. Applicants must also demonstrate leadership skills, communication skills in English, as well as the ability to work collaboratively with others in an academic environment.
ACCOMMODATIONS: Each semester the Rooney Scholar lives on campus in the Rooney House, a comfortable and fully equipped 230-square-meter private residence. This enables Rooney Scholars to engage with students and fully immerse themselves in campus life. Travel expenses are provided, as is an automobile for the Rooney Scholar's use (valid driver's license required). Financial assistance and living expenses are negotiable based on qualifications.
DEADLINE: Applications are reviewed on a rolling basis but must be submitted at least four months in advance of the proposed period of residence.
For more information, contact:
Jennifer Creamer (creamer@rmu.edu)
Director, Center for Global Engagement
Rooney International Scholars
Fall 2019: Ambassador Robin Sanders
Ambassador Sanders served as one of the U.S. government's top diplomats on African issues over a long career in the United States Diplomatic Corps. She served as Ambassador to the Republics of Nigeria and the Congo, two stints as Director for Africa at the White House, and the U.S. Permanent Representative to the West African Regional Organization ECOWAS. Dr. Sanders received her doctorate degree from RMU in Information Systems and Communications. She is CEO of FEEEDS Advocacy Initiative, supporting a variety of social and business initiatives on the continent.
Spring 2019: Christa Uehlinger (Switzerland)
Christa Uehlinger, Ph.D, joined the University as its Rooney Scholar for the Spring 2019 semester. Dr. Uehlinger is an experienced intercultural professional and a lecturer in intercultural communication in the department of Business Administration at FHS St. Gallen, Switzerland, RMU's international partner. She received her Ph.D and Master's degree in law from the University of Zurich, and holds further certificates in intercultural communication from ICI/Portland, OR, in PR from NYU and Psychosynthesis. Her primary research subject is developing intercultural competence, using a comprehensive approach. She has written books and several articles on this topic, as well as developed a game, "Puzzling Intercultural Stories."
At RMU, Dr. Uehlinger worked on her workbook which focuses on supporting people to develop skills necessary in a multicultural world, in addition to acting as the Intercultural Mentor for RMU and FHSG's JUSP, international consulting program, in its third year. She also offered intercultural workshops for faculty, staff, and students during her stay. Dr. Uehlinger has lived, worked, and travelled in Europe, Canada, the US, Australia, and Asia. She was co-hosted by SCIS and SBUS.
Fall 2018: Adesoji Oni (Nigeria)
Dr Adesoji Oni is senior lecturer in the department of educational foundations at the University of Lagos, Nigeria, where he specializes in teaching the sociology of and the foundation of education from the undergraduate to the postgraduate level. His research interests include social problems in education, social change in education, teacher education, and social deviances and social disorganizations in education, with a particular focus on student secret cults in Nigeria. At RMU, Dr. Oni did a comparative study of managing diversity in education in the U.S. and Nigeria.
Spring 2018: Sara Nyobe (France)
Dr. Sara Nyobe is an associate professor in human resource management at RMU's international partner, the EM Strasbourg Business School in Strasbourg, France. Her primary research subject is the management of individual identities in an international working environment. She is the co-author of the 2017 textbook Management and Management Control for Master's Students. At RMU she taught courses in human resource management, skill management, theory of organizations, and interpersonal communication.
Fall 2017: Werner Kristjanpoller (Chile)
Dr. Werner Kristjanpoller is an industrial engineering professor at Universidad Técnica Federico Santa María in Chile and director of the university's business incubator. His research and teaching interests are in the field of finance and economics, econometrics, and the application of artificial intelligence to forecast financial assets. At RMU, Dr. Kristjanpoller collaborated with the School of Business and conducted research on crypto currency behavior and the accuracy to predict the returns and volatility of Bitcoin.
Spring 2017: Monwabisi Gantsho and Moloko Ramashala-Gantsho (South Africa)
Dr. Monwabisi Gantsho is a medical doctor and consultant at Afris Health and Technologies in Johannesburg and Pretoria, South Africa, with extensive experience in the healthcare industry, representing general practitioners and specialists in the South African Medical Association and lobbying government institutions, regulatory bodies, and healthcare actuaries and funders. At RMU, Dr. Gantsho taught the global economics of health care and gathered data on Obamacare health reforms to compare with the regulatory frameworks of the South African National Health Insurance Implementation.
Dr. Moloko Ramashala-Gantsho is a medical advisor and health risk manager for MMI in Pretoria, South Africa. Her teaching interests include HIV/AIDS community health from the South African perspective and health technology assessments in the real world. At RMU, Dr. Ramashala-Gantsho integrated integrating evidence-based research activities from the RISE Center to inform the development of a curriculum for health sciences and nursing students in South Africa.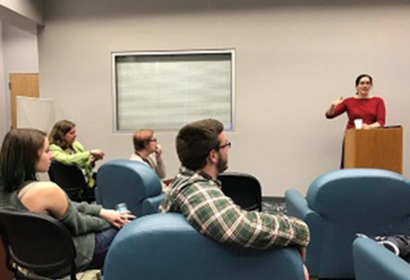 Fall 2016: Annette Förster (Germany)
Prof. Annette Förster is a lecturer and research associate for the Institute of Political Science at Aachen University. Her PhD is in international relations from the London School of Economics and Political Science, and she is the author of the 2014 book Peace, Justice and International Order, the co-editor of another book, Supranationality and Democracy, and the author of numerous articles on torture and democracy.
Spring 2016: Misha Segal (Israel)
Misha Segal is an Emmy Award-winning composer and pianist who has written movie scores and theater music, conducted symphony orchestras, and written pop songs, and producing artists. His ability to infuse different cultural influences and music styles into his work is one reason why he has won major awards on three different continents.
Spring 2016: Patrea Andersen (New Zealand)
Dr. Patrea Andersen is associate professor for nursing and academic director for simulation and visualisation at the University of the Sunshine Coast, Queensland, Australia. Dr. Andersen's primary focus is on simulation development and curricula integration. Her research interests include clinical education, visualisation and game-based simulation, patient safety, professional competence and issues impacting on the preparation and development of health professionals.