RMU at the Washington Center
When RMU students attend The Washington Center for a full semester, they return more confident, more skilled, and better prepared for their professional futures.
While in the nation's capital, they complete an internship that challenges them to think critically, act professionally, do meaningful work, and ultimately stand out from the crowd. Additionally, they create a rich portfolio of their work from TWC classes and programs that they can integrate into their professional portfolios. An ever-growing number of RMU students are electing to accept this opportunity to learn, live, and work in Washington.
If you don't want to be away from Pittsburgh for an entire semester but want to take part in a TWC program, then consider the annual January or May seminars it hosts. The January program typically focuses on media and politics, and the May seminar typically hones in on issues relating to national or cyber security. These academic seminars provide students with opportunities to engage with distinguished experts and public figures. Students who attend TWC seminars are provided with a myriad of experiences to explore D.C. and form professional networks with leaders in media, politics and government.
There are a limited number of spots for TWC semester-long internships available every year. Students must first apply and be accepted by RMU in the spring to pursue this opportunity during the fall or spring of the following academic year. Begin the application process by contacting Dr. Anthony Moretti, the liaison for the Washington Center Internship and Seminar Program, at moretti@rmu.edu. As requirements differ between academic departments, you must also meet with the department head in your major. The application also involves submitting your checksheet, resume,  letter of recommendation from a faculty member, and a one-page essay on why you want to pursue a TWC internship for review by a faculty committee. Preference is given to students with over 60 credits with a 3.25 GPA.  
Application deadlines are as follows: 
February 1: Deadline to meet with TWC Advisor and department head to indicate interest in TWC for coming academic year
February 15: Deadline to submit application materials to the liaison for the Washington Center Internship and Seminar Program for review by the RMU Faculty Committee
March 1: Acceptance notifications from RMU Faculty Committee
Second week of April: TWC early deadline for a fall internship 
First week of May: TWC regular deadline for a fall internship 
Second week of October: TWC early deadline for a spring internship 
First week of November: TWC regular deadline for a spring internship 
For more information, contact: 
Anthony J. Moretti, Ph.D.
Coordinator, Washington Center Internship and Seminar Program
moretti@rmu.edu
412-397-6467 phone
Wheatley Center 212
Testimonials
Sydney Clark, student
Sydney Clark is a senior at Robert Morris University, where she is pursuing a major in political science and a minor in international studies. She is scheduled to graduate in May 2020.
I arrived at The Washington Center Residential Academic Facility located in the NoMa neighborhood of Washington DC in late August 2019. A series of orientation events have me prepared to spend the next three months here. I will be an intern from September through early December at the Peace Corps in its Department of Records Management. During my internship, I will review audio, visual, and written records and determine which should be made a permanent part of the Peace Corps' archives. The work I am doing with archival records will help ensure that the extensive history of the Peace Corps is preserved. I hope this internship will allow me to grow professionally by expanding my network and giving me experience working in a federal agency. I am really excited about this opportunity to spend time living, learning, and working in Washington DC!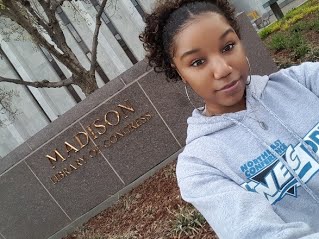 Amari Jacks, student
Attending The Washington Center during my junior year of college was one of the best decisions I made during my undergraduate career. TWC showed me that there is much more to life than the typical college campus routine. I was in the habit of going to classes, conversing with friends, doing homework, sleeping and eating. And then repeating it all the next day. I thought TWC would give me a break from this life by working four 9-5 days at Z Communications, going to the gym, eating dinner, going to sleep and always having enough time to spare for my own adventures in the nation's capital…boy, was I wrong.
Personally, I figured out how to shop for groceries, cook full course meals, catch the Metro, and plenty more, all without the supervision of my parents. I guess you can say I learned the art of what we call "adulting." 
I was living in an apartment with three other young women who weren't from Philadelphia, my hometown. They called California, Rhode Island and Brazil home. This taught me how to deal with different cultures and distinctive personalities so we could each live in the apartment comfortably and still maintain healthy "roommateships."
Professionally, TWC taught me the essence of networking, the value of positive presentation, and the need to prolong relationships in the professional world. Every Friday morning, I added more of the tools necessary to succeed; ask me for my "elevator speech" now and I can deliver it. Ask me about the key words that employers search for in a cover letter, and I can tell you what they are. This Friday morning program, though only once a week, kept me occupied. So did the assignments for a Monday evening class I took in the Associated Press' building. TWC also organized trips on Fridays throughout the city to museums, companies and to the news program "Meet The Press."     
I wouldn't change the experiences I had in TWC for the world! What I've learned has molded me into the young professional I am today, and I am forever grateful to TWC for selecting me into such an exceptional program.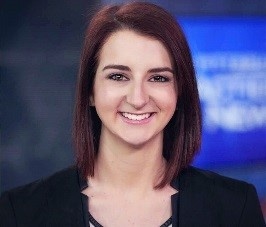 Leah Fleischel, student
Though RMU had already given me many adventures (a trip to Ireland, a four-hour television broadcast of a presidential election and coverage of RMU's win over Kentucky just to name a few) by the time I had started my semester-length internship at The Washington Center, I was still looking for something more to continue getting out of my comfort zone. 
The Washington Center was the perfect solution: an environment in which I could grow professionally, academically and personally. It promised a transformative experience, and my 15 weeks there lived up to that guarantee.
I interned at Voice of America, where I wrote, produced, edited and sometimes anchored 60-second videos for its digital platforms, as we reported news taking place in America, Africa and around the world. While there, I met people from dozens of countries who spoke several different languages, each with a different story to tell. 
I also took a Media Law and Ethics class at the Associated Press building with a professor who had years of experience reporting on many different beats. She always challenged us to think differently, and my classmates always supplied interesting points and multiple perspectives. 
We had the opportunity to engage in a community service project that we were passionate about. 
Professionally, we learned about networking, crafting resumes and public speaking.
As students of TWC's program, our days were full, but it was the "free" times that were some of the most transformative. All of us had one thing in common: We had finally gotten used to our college campus when we decided to experience something new and challenging. Whether it was exploring monuments and museums, walking through the many different neighborhoods, or searching for the best tacos in the district (it's District Taco, my roommates and I concluded after thorough research), we made D.C., and our experience, our own. 
After spending almost two years in the "real world," I know that nothing could have prepared me better than my time at The Washington Center, and I'll forever be thankful for the friendships, connections and memories I made while there.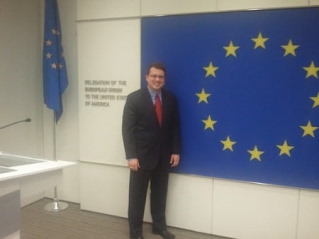 Anthony Moretti, Associate Professor
I'm a big believer in making the real world an integral part of a college student's undergraduate academic experience. I contend that books and lectures are valuable teaching tools, but being in a professional environment also is crucial as students move into their preferred careers.
And for students interested in living and working in the nation's capital, The Washington Center (TWC) absolutely is the place to be. 
Whether a student attends a two-week seminar or participates in the 15-week internship program, he or she will learn from leading figures in the fields of journalism, politics, business, government, science, education and more. That student also immediately will explore different cultures; TWC's commitment to ensuring that students from all points on the globe take part in its programs guarantees that cultural horizons are expanded. A rigorous – but exciting – academic curriculum is evident in the shorter term seminars and longer term internships. 
I've been impressed with the number of students who have told me that TWC was critical in shaping their personal and professional development. 
I've been a faculty leader for more than one-dozen TWC programs since 2008. I look forward to sharing my stories, but more importantly I want to help you create yours!