Newsroom
Robert Morris University
Buscaglia Three-peats as NEC Coach of the Year
Colonials women's basketball coach Charlie Buscaglia is the first in conference history to win the honor three straight times.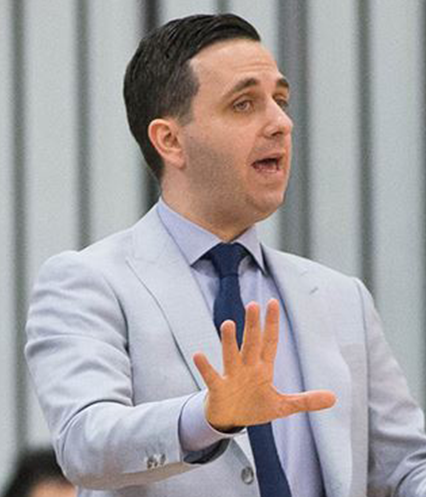 Robert Morris University women's basketball head coach Charlie Buscaglia and junior center Nneka Ezeigbo were among the Northeast Conference major postseason award winners, as Buscaglia was named Brenda Reilly Coach of the Year and Ezeigbo collected Defensive Player of the Year accolades.
Buscaglia won his third consecutive Coach of the Year honor, becoming the first coach in conference history to garner the plaudits in three straight years. Ezeigbo also was named to the All-NEC First Team, and freshman guard Isabella Posset gave the Colonials an All-NEC Rookie Team selection for the third consecutive season.
In his third season directing RMU, Buscaglia brings home the hardware after leading his team to a third straight NEC regular-season championship. The Colonials – who have the third youngest team in the league with 69.2 percent underclassmen – bounced back from a tough non-conference slate to start 11-0 in league play, setting a new school record while becoming the second team in history to open the NEC slate with back-to-back 9-0 starts. RMU ultimately finished with a 16-2 conference mark, earning the top seed in the NEC Tournament for the third time in program history.
Defense again is a major key to the Colonials' success, as they lead the league in scoring defense (55.1), field goal percentage defense (.373), rebounding defense (35.1), steals (10.3), and forced turnovers (20.45). Both RMU's scoring defense and forced turnover numbers rank in the top 25 nationally, slotting 11th and 24th, respectively. Since Buscaglia took over the Colonials, his defenses have ranked eighth (54.1, 2017-18) and 25th (57.0, 2016-17) nationally.
Ezeigbo excelled on both ends of the floor as a junior, earning her third All-NEC designation and first major award in the process. She is the only player in the NEC to rank in the top seven of both blocks (1.3, 4th) and steals (1.7, 7th), collecting multiple steals in 16 contests and two or more blocks in 10. Offensively, Ezeigbo slots fourth in rebounding (7.6), 10th in field goal percentage (.476), and 11th in scoring (12.2), all while playing 24.4 minutes per game. The Ewing, N.J. native has also made huge strides at the free throw stripe, going from 50.9 and 52.6 percent in her first two seasons, to converting 68.6 percent (59-86) of her foul shots now.
As the regular season has winded down to a close, Ezeigbo has played her best basketball. She's averaged 17.0 points on 59.4 shooting, 8.8 rebounds, 1.9 blocks, and 1.6 steals over the last eight games, and has reached double-figures scoring in 12 of the last 14 contests. On Feb. 27, Ezeigbo was named NEC Player of the Week after averaging 23.0 points and 10.0 rebounds in a sweep of the Brooklyn schools, highlighted by a career-high 30-point performance against LIU Brooklyn. The junior has six double-doubles, and reached both the 500-rebound and 100-steal milestones this season.
Posset – the program's first Pittsburgh-area player since Britta Emberg in 2013-14 – continues a tradition of high-performing freshmen, becoming RMU's 11th All-Rookie selection since the 2009-10 campaign. The Beaver, Pa. product leads the Colonials in minutes (25.3), assists (77), and steals (56), while slotting second on the team in scoring (8.0). She ranks fourth in the NEC in steals per game (1.9) and 12th in assists per game (2.7), pacing her rookie counterparts in both categories.
A three-time NEC Rookie of the Week recipient, Posset came off the bench in her first eight games before appearing in the last 21 starting lineups. She is second on the team in double-digit scoring performances with 10, owns five five-assist games, and has collected at least one steal in all 29 contests. Posset opened her career with eight assists at Youngstown State, scored a season-high 16 points in her debut start against Pitt-Johnstown, and swiped six steals at home against Wagner.