Newsroom
Robert Morris University
Clark Named 2019 NEC Co-Coach Of The Year
Total of eight Colonials garner All-NEC accolades.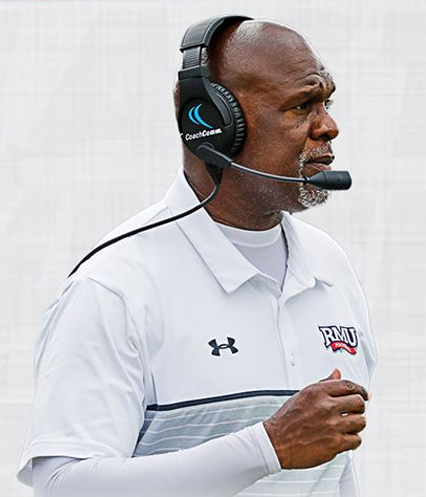 In a vote of Northeast Conference (NEC) head football coaches, Robert Morris University head coach Bernard Clark, Jr., was named the 2019 Northeast Conference Coach of the Year Wednesday, while eight student-athletes earned All-NEC honors.
 
Named to the 2019 All-NEC First Team are junior kicker Nick Bisceglia, senior tight end Matthew Gonzalez, redshirt senior safety Mason Gray and redshirt sophomore running back Alijah Jackson. Earning 2019 All-NEC Second Team plaudits are sophomore linebacker Aniello Buzzacco, junior offensive lineman Trevor Hicks, redshirt senior defensive back Heavon Price and redshirt offensive lineman Bussy Remaley.
 
Clark, who shares the 2019 NEC Coach of the Year accolade with Central Connecticut Head Coach Ryan McCarthy, joins former head coach Joe Walton (1994-2013) in taking home the top coaching honor in the league. Walton was named NEC Coach of the Year (1996, 1997, 1999, 2010) four times.
 
In one of the greatest turnarounds in program history, Clark, who was named a finalist for the 2019 Eddie Robinson Award Monday, helped guide the Colonials to an overall record of 7-5 (.583), including a mark of 6-1 (.857) in the NEC. RMU won seven of its final nine games of the season after opening the year 0-3.
 
In 2019, Robert Morris posted its first winning season since 2010 in Clark's second season as head coach. The Colonials claimed their first road win since 2015, snapping a 21-game drought, while also posting their first league victory since 2016, ending a 14-game slide.  
 
Individually, the eight All-NEC honors for RMU are the most since nine Colonials were honored in 2013.
Bisceglia, a two-time NEC Special Teams Player of the Week, finished with 69 points in 2019, including a perfect 33-for-33 performance in point after attempts. He tied for the league lead in field goals (12) with Trevor Thompson of Saint Francis and notched his second career game-winning field goal in a 20-17 double overtime victory @ Saint Francis (10/12). Bisceglia enters the 2020 season ranked fifth all-time in school history with 146 points.
 
Gray made an immediate impact in his lone season at Robert Morris after transferring from the University at Albany, ranking third in the NEC in tackles with an average of 8.3 takedowns per game. He finished with an even 100 tackles, including a team-high 59 solo stops, and also recorded 12 passes defended. Among Gray's 12 passes defended were a pair of interceptions, both of which he returned for a touchdown in a 41-21 victory over Duquesne (11/9) at Joe Walton Stadium.
 
Jackson ranked second in the NEC in rushing (88.3 yards per game) and third in all-purpose yards (103.5 ypg) in 2019, registering five 100-yard rushing efforts. He also rushed for four touchdowns. Jackson became the fifth student-athlete in program history to eclipse 100 yards on the ground in four consecutive games in 2019. He enters the 2020 campaign ranked seventh in program history for rushing yards (1,539) and 10th in rushing touchdowns (9).
 
Gonzalez capped one of the best careers for an RMU tight end in 2019 by leading the receiving corps with 34 catches for 563 yards and four touchdowns. He ranked fourth in the NEC in yards per catch (16.6) and concluded his career with totals of 96 receptions, 1,473 receiving yards and 17 touchdowns. Gonzalez ranks fifth all-time at Robert Morris in receptions and receiving yards and is tied for fourth in the career record book for touchdown catches.
 
In a breakout 2019 season, Buzzacco earned All-NEC Second Team honors after leading the NEC and ranking fifth in the NCAA Football Championship Subdivision (FCS) in tackles with 131, an average of 10.9 per game. He established an RMU single-season record for takedowns, registering at least 10 tackles in a game seven times, including a career-high 18 tackles in a 24-20 win over Bryant (10/26).
 
Hicks and Remaley were key pieces for an RMU offensive line that helped the Colonials average 290.8 yards of total offense per game. The Robert Morris ground game averaged 132.3 yards per contest, with Jackson and redshirt senior running back Terence Stephens, Jr., combining for 1,479 yards and nine touchdowns on 305 rushing attempts, an average of 4.81 yards per carry. The honor for Hicks and Remaley marks the first time since 2013 an offensive lineman garnered All-NEC recognition.
 
Price teamed with Gray to solidify a Robert Morris secondary in 2019 that ranked third in the circuit in pass defense, allowing an average of 176.1 yards per game. Price recorded 73 tackles, including 48 solo stops. He tied Gray in passes defended, recording a team-high 12 pass breakups, and also forced a fumble. Price concluded his career with 102 tackles and 15 pass breakups.