Newsroom
Robert Morris University
Commencement Policy Statement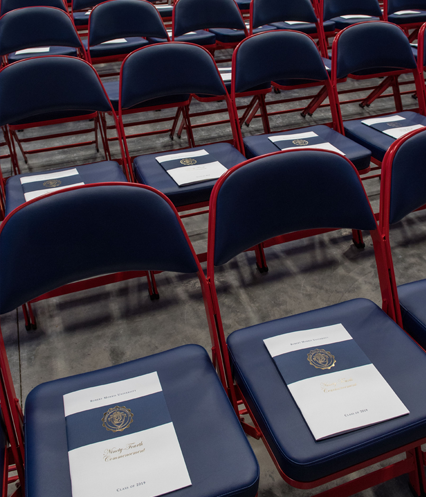 Dear students,
At RMU, your safety and the safety of our community is always our number one priority. That is why we have taken several months to plan this year's Commencement. After meeting with leaders of the Student Government Association, it was abundantly clear that students wanted a traditional ceremony to include walking across the stage to collect their diplomas in the company of their classmates.
 
As a result, the Commencement Committee produced a detailed plan expanding the number of ceremonies from two to seven in order to adhere to all public health protocols. What remained in question was the ability to allow guests to attend, given the need to allow for 6 feet of space between each graduate and each family group in the UPMC Events Center. We even considered holding the ceremony outside in Joe Walton Stadium. However, the number of seats would remain the same, and the chance of inclement weather gave us pause. After careful consideration, we decided out of an abundance of caution to only permit graduates to attend.
However, after we examined your concerns, we identified modifications -- including reducing the number of staff who will work at Commencement -- that will allow us to welcome guests while following all the public health guidelines I described above. I am pleased to be able to tell you that we will allow each graduate to invite two (2) guests to Commencement. This includes undergraduate, graduate, and doctoral ceremonies.
But we need your help to make this work. These are things I ask of each of you as part of the RMU community: 
Everyone needs to wear a mask at all times. 
All guests will need to enter and exit when and where they are told, and to only socialize with members of their own party. Students and guests should not congregate inside the UPMC Events Center before or after the ceremony.
If you are not feeling well, or have been exposed to someone who has tested positive for COVID-19, you must stay at home.
Finally, please make sure you plan in advance for any guest who will need special accommodations for this event. The more time we have, the better prepared we will be to assist you.
In addition to these actions we also highly encourage all visitors and students to get vaccinated.  According to public health officials, even a single dose is up to 80% effective in preventing infection by the COVID-19 virus. The spread of the virus on campus remains a consideration; therefore, surveillance testing will continue through the end of the semester and may be intensified. It is critical that students follow all safety protocols even as the weather improves and avoid large social events.
 
The Class of 2021's commencement ceremonies will be the largest and most complex activity that has occurred on our campus since the pandemic began. We are counting on students and their guests to make it both safe and memorable. Thank you, and congratulations to the Class of 2021!
Sincerely,
Dr. Christopher B. Howard
President