Newsroom
Robert Morris University
Confectionary Colonials
A Colonial Couple take time away from their regular jobs to scoop ice cream at their Ellwood City shop, "Sweet Caroline's."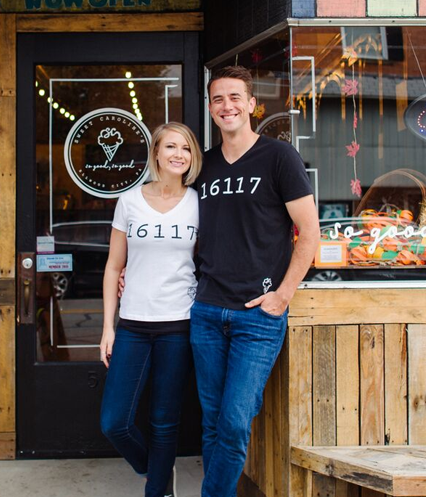 "We found that we have our greatest success when we are turning the focus away from ourselves and highlighting others." 
Peanut butter French toast, raspberry cup swirl, coconut cream pie, and ... cow plop? Caroline Ovial Golmic '09 and her husband, Scott Golmic '09, dish up some imaginative flavors at Sweet Caroline's, their Ellwood City ice cream parlor — including a chocolate and Oreo confection with a surprising name. 
"We felt that opening our ice cream shop was the best way for us to truly be a part of our community," says Caroline, a local native who moved back to her hometown in 2014 with Scott, who is originally from Cranberry. To the Golmics, being part of the community means supporting local businesses. Their ice cream comes from Windy Ridge Dairy five miles up the road, their coffee from Two Rivers Artisan Coffee Works in New Castle, and their shelves are stocked with crafts for sale by local artisans, from jewelry to greeting cards. A local church even provided a pew for seating.
Young Professionals of Lawrence County this year named Caroline to their "Top 5 Under 40," honoring her career accomplishments and dedication to community service. She was president of the Ellwood City Area Chamber of Commerce last year and is still actively involved in the organization. The Golmics are proud to be part of a chain of small business starts and renewed optimism in the small town, and both also volunteer at community events. Sweet Caroline's regularly partners with other local businesses to host fundraisers — some of their best sales days. "We found that we have our greatest success when we are turning the focus away from ourselves and highlighting others," she says.
In their 'spare' time away from the shop, the two entrepreneurs hold down additional day jobs. Caroline is an Aflac agent who stepped back from a district sales director position to focus on Sweet Caroline's. Scott is a freelance camera operator who works a "dream job" that includes shooting Steelers, Penguins, and Pirates home games. 
Both stress how RMU has helped them reach their goals. Caroline lauds her international honors program and study abroad in Rome, and also her work starting a Big Brothers Big Sisters program for the Mooncrest neighborhood in Moon Township that is still going strong today. "I really like to create things, get things started and moving," she says. "I feel that was the beginning for me." Scott points to RMU connections that led to internships and work he enjoys today, including AT&T SportsNet and NFL Films.
Last but hardly least, there's one all-important connection. Scott, as class president, gave a rousing commencement speech encouraging classmates to stay in touch and even offering up his own phone number. Caroline's mother — despite the presence of her daughter's then-boyfriend — whispered, "I hope you wrote that boy's number down. He's really impressive." Caroline just smiled, but mothers know best. A few years later Caroline was texting her old acquaintance to catch up over coffee, and the rest is Colonial Couple — and now Ellwood City — history.