Newsroom
Robert Morris University
Esports Team Makes Rocket League Final Four
RMU falls just short of national championship in Atlanta.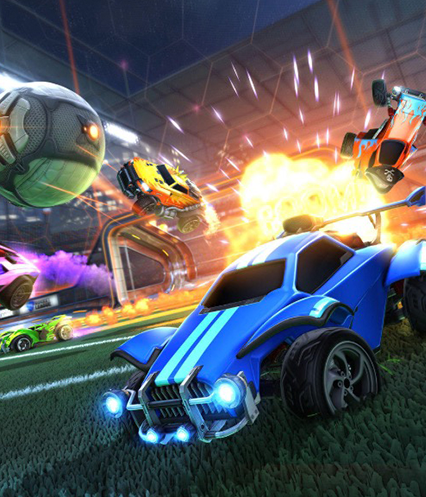 In its first year as a member school, Robert Morris University made it to the semifinal round of the National Association of Collegiate Esports fall championship tournament in Rocket League.
The three-person RMU team was knocked out by top-ranked and undefeated University of Missouri, falling just one game short of the NACE Rocket League finals in Atlanta.
RMU defeated the University of Texas at Dallas, Northwood University, Edinboro University of Pennsylvania, and Arcadia University in the tournament, which began with a bracket similar to the traditional 64-team March Madness basketball tournament. Games were broadcast on the team's Twitch channel: twitch.tv/rmucolonials.
"I'd say this is most high-profile event our team has been in," said Armand Buzzelli, director of campus recreation. Buzzelli oversees the university's 21 club sports programs, which since last year have included esports.
"It's one of the most popular competitive activities for high school and college age students now, and it has all the same components any other sport has," Buzzelli said. "Preparation, practice, strategy, leadership, communication, teamwork – all those same things apply with esports."
RMU is the first university in the Pittsburgh area to join NACE, which counts more than 170 member schools. Next fall RMU will begin offering scholarships for esports. 
The team has more than 40 student members competing in eight videogame titles. Team members practice in the Student Recreation and Fitness Center, where they have 12 high-end gaming computers, ergonomic chairs, and team jerseys with the Colonials logo. This fall the university hired Richard Zapp as esports head coach.
Rocket League team captain Ryan Conti, a senior majoring in cybersecurity and digital forensics, has played esports all four years at RMU, two years when the players were a student organization and his junior and senior years as part of a club sport. He and his teammates practice 2 or 3 nights a week in the esports room. 
"Calling it an official club sport kind of gives us the motivation and the push to do even better," said Conti. "It means a lot to be able to compete with some of the best."
Club sports allow students who are not members of the university's 16 NCAA Div. I athletic teams to compete in intercollegiate sports. RMU's club teams are on a recent run of success; the rugby, hockey, roller hockey, golf, and bowling club teams have all competed in national championship tournaments in recent years.