Newsroom
Robert Morris University
Ezeigbo Joins Pro Basketball Ranks in Spain
The four-time All-NEC selection will be the 22nd Colonial to make her professional debut.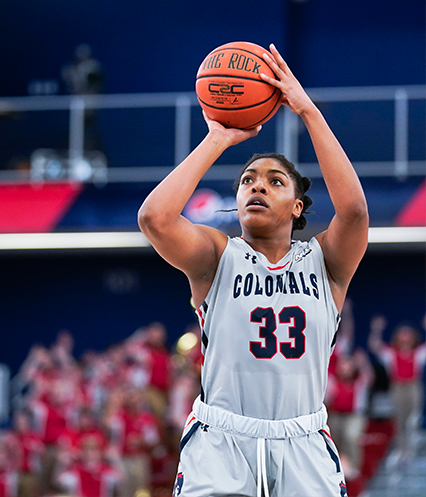 Nneka Ezeigbo, 2020 alumna of the Robert Morris University women's basketball team and four-time All-NEC player, has signed a professional contract with Unicaja Malaga of Spain's Liga Femenina 2.
"I'm extremely excited to start this new phase in my life and take my basketball career to the next level," said Ezeigbo. "I want to thank my RMU team for always having my back and the coaching staff for pushing me and helping cater to my needs. I would not be where I am today without their support!"
"Nneka has developed a great deal over her four years," added Robert Morris head coach Charlie Buscaglia. "During the recruiting process, I will always remember sitting down and discussing that becoming a professional after her journey with us was very possible, and she explained that becoming a pro was a dream of hers. Well, that dream is now a reality, and she joins a list of RMU greats that earned this amazing opportunity. We are all very excited for Nneka, and know she will serve her new team well in Spain."
Unicaja Malaga will be beginning its fourth season with a women's basketball team in 2020-21. It earned promotion to LF2 in just its second season by capturing the 1a Nacional title in 2018-19, and in 2019-20, it posted a 15-6 overall record, which ranked fourth out of 14 teams in its division. Last season's team featured notable players such as Angel Robinson, who was selected in the second round by the New York Liberty in the 2011 WNBA Draft, and Angela Rodriguez, a 2014 alumna of new Horizon League foe Milwaukee.
Ezeigbo completed one of the most illustrious careers in school history this past season. She is the only player in program annals to be a part of four Northeast Conference (NEC) regular-season championship teams, and one of five Colonials to be named to four All-NEC teams. The Ewing, N.J. product was the 2018-19 NEC Defensive Player of the Year, the 2019 NEC Tournament MVP, a six-time NEC Player of the Week, and two-time All-NEC First Team selection. She captured NEC Winter Scholar-Athlete of the Year for women's basketball in April, and was twice named a finalist for NEC Student-Athlete of the Year.
In the RMU record books, Ezeigbo is one of four players to accumulate 1,000 points, 500 rebounds, 100 blocks, and 100 steals in a career. She ranks fourth all-time in rebounds (870) and field goals made (557), fifth in blocks (109), sixth in points (1,358) and games played (125), eighth in steals (167), and 12th in field goal percentage (.484). As a senior, Ezeigbo established new career highs in scoring (14.1), rebounding (8.3), assists (0.7), and free throw percentage (.676) despite playing just 23.6 minutes per game.
Ezeigbo is the 22nd Colonial under Buscaglia to play professionally, joining a list with former teammates Rebeca Navarro (2013-17), Megan Smith (2014-18), and Anna Niki Stamolamprou (2013-17).
Since 2013-14 among mid-major programs, Robert Morris – the newest member of the Horizon League – ranks second in conference tournament titles (4), third in NCAA Tournament appearances (4), fourth in conference regular-season titles (5), ninth in conference wins (101), 14th in conference winning percentage (.802), 15th in postseason appearances (5), 16th in overall wins (150), and 19th in overall winning percentage (.661). The Colonials are coming off a 2019-20 campaign where they went 23-7 and 17-1 in the NEC, capturing their fourth consecutive regular-season crown in the process.