Newsroom
Robert Morris University
Hockey Shines Again in the Classroom
Men's and women's teams both lead their leagues in All-Academic awards.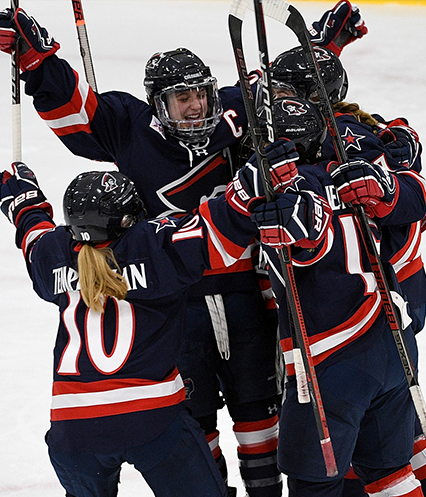 In what's become a springtime routine, the Robert Morris men's and women's hockey teams excelled among their peers in the classroom. Five Colonials on the men's team earned 2018-19 Student-Athlete of the Year in Atlantic Hockey, a league high, and 23 total players made the AHA's annual All-Academic Team. The women's hockey program placed 19 Colonials on the 2019 College Hockey America All-Academic Team, also a league high. Four of the 14 players named 2018-19 CHA Student-Athlete of the Year played for RMU.
The men's team has had at least 20 players recognized for their grades for nine consecutive seasons -- every season the Colonials have competed in the league. Student-athletes must post a 3.0 grade-point average in both semesters in order to be eligible for the All-Academic Team; RMU's 23 honorees tied RIT, Canisius and Niagara for the most in the AHA.
This is the third consecutive season the men's team has produced at least four co-Student-Athletes of the Year, each of whom notched perfect 4.0 GPAs during the academic year. This year's honorees were juniors Sean Giles and Francis Marotte, sophomores Nick Prkusic and Dyllan Lubbesmeyer, and freshman Brendon Michaelian. For Giles, this is the second consecutive year he's nabbed a 4.0.
For the women, sophomores Emilie Harley and Lexi Templeman, who have maintained perfect 4.00 GPAs through four semesters, earned their second consecutive CHA Student-Athlete of the Year nod. Harley, a biology major, played all 36 games for Robert Morris in 2018-19, supplying five goals and five assists. Templeman, an accounting major who also appeared in all 36 contests for the Colonials last season, finished second on the squad in points (32) courtesy of six goals and 26 assists. Templeman was tabbed to the 2019 All-CHA Second Team.
Joining Harley and Templeman with posting perfect 4.00 GPAs during the 2018-19 academic year for Robert Morris were junior forward Jaycee Gebhard and freshman forward Courtney Kollman. Gebhard, who has posted a cumulative GPA of 3.95 as a marketing major, finished as CHA's top point producer in 2018-19. She finished with 51 points, recording league-high marks in both goals (19) and assists (32). Gebhard also produced a league-high five game-winning goals in 2018-19 and enters her final season of eligibility in 2019-20 ranked second all-time in program history in points (135) and assists (81) and third in goals (54). She was named to the 2019 All-CHA First Team.
Noteworthy for the men's team, all freshmen made the All-Academic Team -- Aidan Girduckis, Aidan Spellacy, Geoff Lawson, Nolan Schaeffer, Nick Lalonde, Grant Hebert, Kip Hoffmann, Justin Addamo, Aiden Beck, Reid Cooper and Michaelian -- to go with sophomores Nick Jenny, Prkusic and Lubbesmeyer, juniors Jacob Coleman, Michael Coyne, Daniel Mantenuto, Alex Robert, Giles and Marotte, plus seniors Alex Tonge, Eric Israel and Kyle Horsman.
For the women, other All-Academic Team members were seniors Lauren Bailey, Maggie LaGue, Sarah Quaranta, Amber Rennie, Caitlyn Sadowy and Kirsten Welsh, juniors Sarah Lecavalier and Natalie Marcuzzi, sophomores Emily Curlett, Morgan Schauer and Molly Singewald and freshmen Arielle DeSmet, Mackenzie Krasowski, Leah Marino and Gillian Thompson.