Newsroom
Robert Morris University
Making a Name for Himself
Colonials golfer Max Palmer is no relation to the legendary Arnold. But he doesn't mind if his opponents think he is.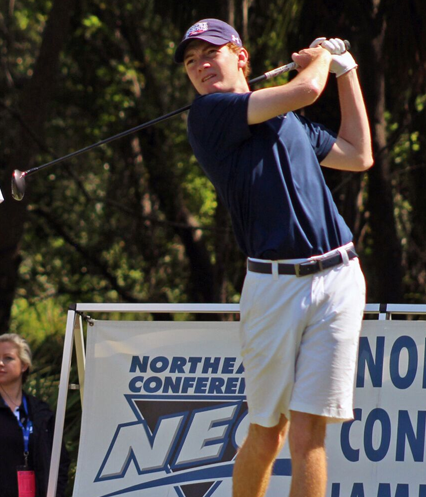 "I can only go out and play the best that I can. If I happen to beat everyone, then that's great."
Max Palmer could barely believe his eyes when the email arrived from former Robert Morris assistant golf coach Rob Bell. "Max," it said, "I'd like to put you on our recruiting radar." The message came at precisely the right time for Palmer, who had all but given up on his dream of being a Division I athlete. It was midway through his senior year at Detroit Central Catholic High School and he had zero scholarship offers. His plan was to enroll at Michigan State as a student, not a golfer.
The eventual union between RMU and Palmer has been nothing short of aces for each. In 2017-18, Palmer became the first sophomore in school history to earn All-Northeast Conference first-team honors. This came a year after he was an All-NEC second-team pick. Palmer's resume reads like a novella as he enters his junior season for the Colonials. Highlights include a third-place finish at the 2018 NEC Championships; team-best totals in scoring average (74.0), top-five finishes (3) and top-10 finishes (4) for the second consecutive season; school rankings of No. 2 and No. 4 in career stroke average (74.39) and career rounds of par and under (9), respectively. "He's a bulldog," veteran RMU golf coach Jerry Stone says. "He doesn't get flustered. When he's behind, he knows how to grind through. He's a talented player."
On the course, Palmer is unmistakable. He's the one with the smooth stroke, the calm demeanor, the striking red hair… and the famous last name. While he's not related to western Pennsylvania golfing legend Arnold Palmer, he occasionally has fun with it. "If I'm in the right mood, I'll say he's my grandfather," Palmer says, laughing. "But I don't get asked about it much. I just go out there and play my game."
Palmer played his game well during the 2018 NEC Championships in Daytona Beach. Trailing leader Anthony Sebastianelli of Central Connecticut State by a stroke entering the final round, he showed the moxie that earned him a spot as RMU's team captain. His score after nine holes was a 34, minus-2. Sebastianelli, who played alongside
Palmer, carded a minus-3, but it was still anybody's match. Over the final nine holes, Palmer did not play as well he would have liked, eventually losing by three strokes. The outcome stung, but just briefly, mitigated by Robert Morris's second-place team finish. And the defeat served as a learning experience as he continues to evolve as a golfer.
"Some people think talking about not winning is a touchy subject with me, but it's not," he says. "I can only go out and play the best that I can. If I happen to beat everyone, then that's great." Palmer takes the same approach in the classroom. A finance major with a minor in accounting, he has a 3.65 GPA. The way he sees it, he wants to maximize every moment at Robert Morris. "I feel fortunate to be here," he says. "I love the school and love being part of this team. If there's one thing I want before I leave here, it's to help us win that team trophy at the NEC Championships. There would be nothing better."