Newsroom
Robert Morris University
Men's Club Bowling Rolls On to National Sectionals
The young Colonials are moving up in the national rankings competing against Penn State, Ohio State and Michigan.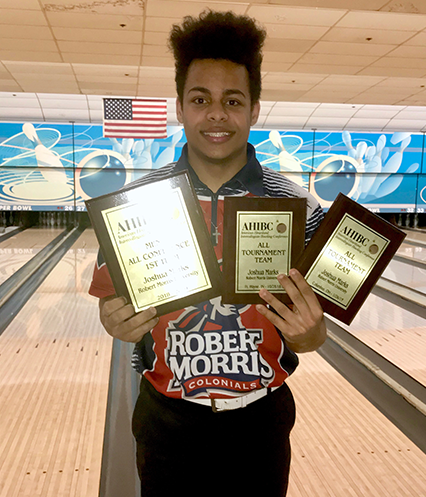 The Colonials will try to make it to the Sweet 16 of club bowling next month when they travel to New Jersey to compete in the sectional round of the Intercollegiate Team Championships on March 9-10.
The team moved from 106th to 41st in the national rankings in one year, qualifying as one of 80 teams in the country invited to compete at four sectional rounds that will determine the final 16 teams in the national championships.
Seven freshmen and five sophomores make up the bulk of the young team's 17-man roster. Freshman Joshua Marks of Hempfield Township was named First Team All Conference at the February championships of the American Heartland Intercollegiate Bowling Conference, which includes Ohio State, Michigan, and Michigan State along with RMU. Senior and team captain Paul Schink of West Mifflin was named Second Team All Conference in the AHIBC.
Next month at sectionals, the Colonials will compete against Penn State, Bowling Green, Rochester Institute of Technology, St. John's, and 16 other schools to earn the opportunity to advance to the national team championships in Dayton in April.
Under coaches John Michalenko and David Adams, the Colonials have competed in 13 regional and national tournaments, with their best performance so far a second-place showing at the Penn State Classic.