Newsroom
Robert Morris University
Netflix Founder To Fund 20 Full Scholarships At Robert Morris University
RMU Next Century Scholarships will benefit students pursuing high-tech careers.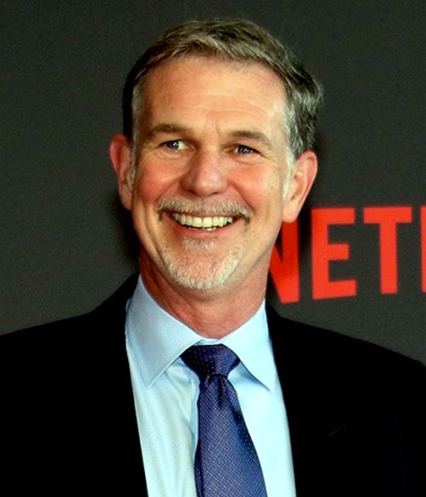 Reed Hastings, founder and co-CEO of Netflix, will give $3 million to Robert Morris University to fund 20 full scholarships -- including room, board, and textbooks -- beginning with students entering the university in the fall of 2021. 
The RMU Next Century Scholarships will be open to applicants from underrepresented groups and others who demonstrate a commitment to empowering members of underrepresented groups, combating stereotypes, and enabling others to better understand persons of different races, ethnicities, or other traits. The scholarships are aimed at students who wish to pursue careers in technology or mathematics-related fields. Recipients will be able to choose from several degree programs at RMU, including:
Computer and Information Systems
Cybersecurity
Data Analytics
Actuarial Science
Mathematics
Statistics and Predictive Analytics
Computer Science
User Experience User Interface Design (UX-UI)
"Nobody can know what the future holds but we are quite sure these are the academic programs that will lead to professional careers which will greatly impact our society," said RMU President Chris Howard.
Two of those degree programs -- Computer Science and UX-UI -- are new for the fall of 2021. 
Demand for jobs in those fields is high. According to Boston high-tech market analysis firm Burning Glass Technologies, in the past 12 months the Pittsburgh region saw 11,350 new job postings in those fields, with 41,799 statewide and almost 1.9 million nationwide. 
"It is critical that universities create pathways and pipelines of talent, especially for Black students and other underrepresented minorities for our knowledge-based economy," said Hastings, who, like Howard, is an Aspen Institute Henry Crown Fellow. "I have known Chris Howard for more than 20 years and know he and his colleagues at Robert Morris University share this commitment."
The RMU Next Century Scholars will participate in summer bridge programs, professional networking opportunities, undergraduate research, mentorship, and internships -- and have an opportunity each year to interact with Hastings. 
RMU Next Century Scholars also will be expected to earn a business-related certificate from among several offered by RMU, including Entrepreneurship, Sales, and Logistics. They also will be able to take advantage of courses in Amazon Web Services (AWS) cloud computing that RMU offers as an AWS Academy member. RMU Next Century Scholars completing the AWS courses and passing the required exam will be eligible for AWS cloud computing certification. These and other courses allow RMU students to qualify for a range of industry certifications. 
"I wish to thank Reed for his generous gift to support students not only committed to pursuing dynamic careers in the information sector, but also to ending social injustice and racial inequality in the most vibrant parts of the world's economy. As usual, he is making a difference in the lives of others in a meaningful way," said Howard.
Hastings' gift comes one month after RMU announced that it had surpassed its goal in its record-setting $100 million fundraising campaign, 10 months ahead of schedule. The university has now raised more than $103 million in gifts and pledges in its RMU 100: Ready to Rise campaign. The university publicly unveiled the campaign on November 12, 2019, with the goal to raise $100 million by the time of RMU's 100th anniversary on September 21, 2021.
Students interested in applying for the RMU Next Century Scholarship, or learning about other scholarship and financial aid opportunities at RMU, can do so at rmu.edu/nextcentury.