Newsroom
Robert Morris University
RMU and the SEAL Future Fund Announce Partnership
The partnership boosts regional efforts to make Pittsburgh a destination for veterans pursuing their next career.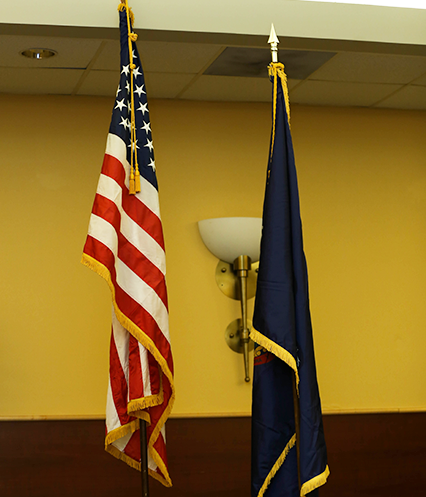 Robert Morris University announced today that it is joining with the SEAL Future Fund (SFF) to provide opportunities for active duty and veteran Navy SEALs to earn a degree and prepare for their next career.
The SEAL Future Fund's mission is to prepare transitioning Navy SEALs for a civilian life of purpose. One of its programs is Educational Assistance, which includes academic counseling, networking, coaching and scholarships to cover the funding gap between military education benefits and the full cost of pursuing education. Another program is Career Building, which includes connecting SEALs with local communities of former SEALs, veterans and civilian leaders across the country to facilitate job seeking and community integration.
"We are pleased to partner with RMU to assist SEALs with their transition to Pittsburgh. RMU's world-class academic programs, commitment to serving veterans and prominence in the Pittsburgh community make RMU a natural academic home for SEALs and an ideal partner for the SFF in Pittsburgh," said SFF President Paul Polakowski.
"RMU's partnership with the SEAL Future Fund is an important component of our vision for Pittsburgh to become the preferred destination for Navy SEALs and other military personnel to transition to civilian life," said RMU President Chris Howard, a veteran of the U.S. Air Force who earned a Bronze Star in Afghanistan.
"The leadership that our veterans can provide will benefit the entire region, including employers and all institutions of higher learning," said Howard. 
Corporate and civic leaders in the Pittsburgh region hailed RMU's partnership with the SEAL Future Fund, which complements a host of other local programs to prepare veterans for the next phase of their lives.
"This is an exciting initiative that will greatly help SEALs adjust to civilian life, have the opportunity for an advanced degree, and an opportunity for a fulfilling career," said Pitt Ohio President Charles Hammel. "At Pitt Ohio we help veterans develop meaningful careers in the transportation industry, and we will work with RMU to offer these opportunities to SEALs."
For more than five years, The Heinz Endowments has funded regional programs to assist the reintegration of returning veterans.
"We commend Robert Morris University and the SEAL Future Fund for this constructive initiative designed to help our veterans kick-start their careers in civilian life and contribute their many talents to this community," said Grant Oliphant, president of the Heinz Endowments. "Increasingly, local employers and institutions recognize the huge and valuable asset to our Pittsburgh community represented by returning servicemen and women."
RMU was among the first private universities in the nation to join the federal Yellow Ribbon Program, which covers the difference between RMU's tuition and educational benefits veterans receive under the Post 9/11 G.I. Bill. Recently RMU opened the new Center for Veterans and Military Families at its Moon Township campus.
 
"We aim to build connections between veterans and the local business community as part of our mission to be the preferred strategic partner for corporations, organizations, and professionals in the Pittsburgh region," said Derya Jacobs, RMU vice president for corporate relations and senior vice provost. 
The university also offers a 30 percent tuition discount for its M.B.A. program to service members stationed at four Pittsburgh-area bases: the 171st Air Refueling Wing, the 911th Airlift Wing, the 316th Sustainment Command, and the 99th Regional Support Command.
"RMU once again is showing what it means to be big enough to matter, yet small enough to care by partnering with the SEAL Future Fund to provide opportunities to those who served this nation in a manner that only a very few can," said Morgan O'Brien, president and CEO of Peoples Gas. 
"We are working together to provide the best opportunities the community can offer," said O'Brien, a graduate of Robert Morris and a member of the RMU Board of Trustees.