Newsroom
Robert Morris University
RMU Maintains Gold Status as a Military Friendly School
The university is graded as a top performer for veterans in terms of both resources and student outcomes.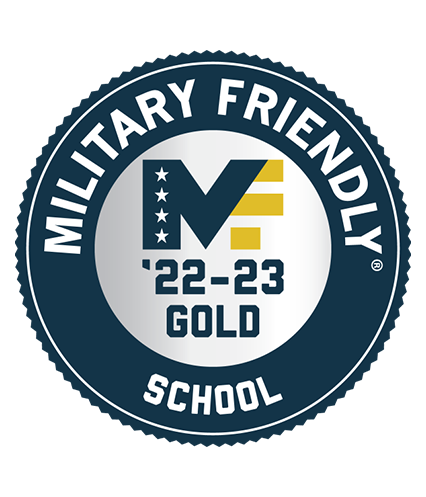 Robert Morris University has again been awarded Gold status among institutions that have earned 2022-2023 Military Friendly Schools award level designation.
The designation indicates a high ranking of participating schools based on factors including retention, graduation, job placement, repayment, persistence, and loan default rates for all students and for student veterans. It comes from Viqtory, a service-disabled, veteran-owned small business that connects the military community to civilian employment, educational and entrepreneurial opportunities.
RMU is one of 282 institutions selected for Gold award status of the more than 1,800 universities and professional schools participating in Viqtory's 2022-2023 survey. The university received Gold status in Viqtory's 2021-22 survey, rising from Bronze in the prior annual rankings.
"I am so proud RMU has earned the Military Friendly status and Gold ranking for the second year in a row in recognition of our constant drive to provide best-in-class support, services, and facilities to our veteran, military, and military family students," said David Ausman, director of the RMU Center for Veterans and Military Families. "Robert Morris University and the Center for Veterans and Military Families never try to win an award or achieve a certain status; we simply do what is best and what is right for our military-affiliated students."
In November, RMU expanded its Military Service Award to cover all tuition and fees for any undergraduate programs of study for veterans, service members, or their spouses or dependents using the Post-9/11 GI Bill, regardless of their benefit coverage level.
"As our university strives to make education accessible for all, we are taking significant steps to ensure that our military service members and their families succeed, both while enrolled at Robert Morris University and after graduation," said Derya Jacobs, RMU senior vice president for corporate relations and strategic initiatives. "This Gold designation recognizes and reaffirms our commitment to support those who sacrifice so much for our country."
The Military Friendly ratings program was started in 2003 as an advocacy vehicle to encourage civilian organizations to invest in programs to recruit, retain and advance veterans as employees, entrepreneurs, and students. The 2022-23 Military Friendly Schools list will be published in the May and October issue of Viqtory's "G.I. Jobs" magazine and can be found at www.militaryfriendly.com.