Newsroom
Robert Morris University
RMU Names its Inaugural S. Kent Rockwell Professor of Entrepreneurship - Dr. Eliada Griffin-El
Robert Morris University (RMU) announced today that it has appointed Dr. Eliada Griffin-El to be its inaugural S. Kent Rockwell Professor of Entrepreneurship.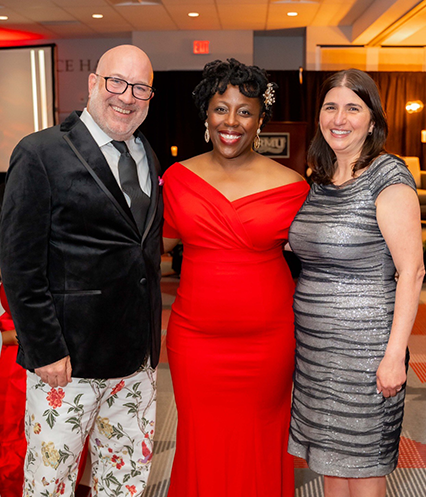 This distinguished position is a pivotal component of the transformational $18 million dollar gift from the S. Kent Rockwell Foundation and the Kent Rockwell family, which has also named the Rockwell School of Business at Robert Morris University.
As previously announced, the generous gift from the S. Kent Rockwell Foundation and the Kent Rockwell family stands as the largest personal gift in the university's history, marking an unprecedented investment in entrepreneurial and business education at RMU. This contribution not only named the university's business school the Rockwell School of Business but also established the permanently endowed S. Kent Rockwell Professorship of Entrepreneurship, another testament to the Rockwell gift's enduring impact.
Reflecting on this momentous occasion during her inauguration ceremony, President Patrick, the former dean of the business school, remarked, "This is a transformational moment for Robert Morris University.  With this gift, the Rockwell family has tied its legacy to ours and propelled our institution into its next century.
Inspired and enabled by their generosity, we will continue to cultivate the spirit of entrepreneurship in everything we do and change the lives of our students for generations to come."
"RMU believes as we do that the spirit of entrepreneurship has the potential to change the world," said Kris Rockwell of the S. Kent Rockwell Foundation. "It has been incredibly exciting to partner with RMU and see firsthand what students can achieve when they're given the ability to put those entrepreneurial principles into action. The S. Kent Rockwell Professorship of Entrepreneurship is a key component of our partnership, and it is in very capable hands with Dr. Griffin-El."
Dr. Griffin-El, a distinguished Professor of Management at Robert Morris University's Rockwell School of Business, holds degrees from the University of Pittsburgh and Yale University. At RMU, she has been a trailblazer in developing entrepreneurial learning ecosystems, evident in her leadership roles, notably as Director of the Massey Center. Prior to RMU, she served at the University of Cape Town's Graduate School of Business, where she founded the Bertha Center for Social Innovation and Entrepreneurship. Dr. Griffin-El's research, which spans from African emerging markets to Pittsburgh, delves into entrepreneurial networks and innovation. In addition to her academic achievements, she collaborates with global entrepreneurs and holds key positions on boards, including the Amandla Development, New Sun Rising, and the Pittsburgh Venture Capital Association, solidifying her commitment to entrepreneurial excellence.
"Dr. Griffin-El embodies the entrepreneurial spirit that defines RMU. She helps to transform students' entrepreneurial aspirations into tangible achievements, infusing the spirit of entrepreneurship throughout our institution," said RMU President, Dr. Michelle Patrick, "We are deeply grateful to the Rockwell family for their continued support and belief in our mission. With their help, we are committed to instilling entrepreneurial principles that will equip our students to excel in their careers and lives, making them truly unstoppable."
For more details or to schedule an interview, please contact Brian Edwards, Chief Brand Officer, at 412-897-0331 or edwardsb@rmu.edu.