Newsroom
Robert Morris University
RMU Names Jacob Peng the First Harshman Professor of Accounting
ATI endowed the scholarship in honor of its former CEO.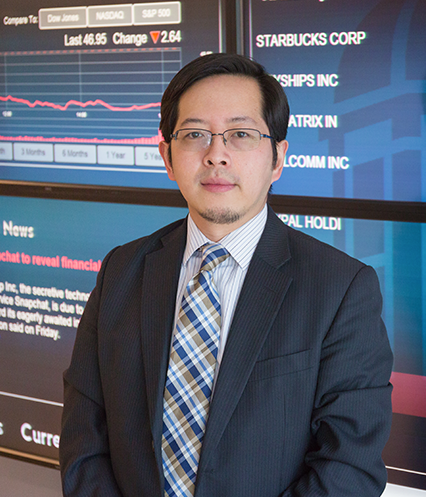 The Robert Morris University School of Business has named Jacob C. Peng the university's first Richard J. Harshman Professor of Accounting.
The Richard J. Harshman Professorship of Accounting is RMU's first endowed professorship, supported by a $1 million contribution from Allegheny Technologies Incorporated in 2019 made in honor of Harshman, a 1978 RMU graduate, upon his retirement from ATI after a 41-year career with the company.  Harshman was ATI's chairman, president and CEO, and is currently the chairman of the RMU Board of Trustees.
"Dr. Peng is an excellent teacher-scholar who has demonstrated a solid commitment to RMU's mission," said Michelle Patrick, dean of the RMU School of Business. "His commitment to student success is exceptional, and that above all else makes him worthy of this honor."
Peng is head of the school's Department of Accounting and Taxation, and has been a member of the faculty at RMU since 2014. He has received numerous awards for teaching and scholarship throughout his career, including the RMU Faculty Global Engagement Award and RMU School of Business Excellence in Teaching Innovation Award. Peng has developed new courses at RMU, and has published numerous scholarly research articles.
Peng earned a bachelor's degree in economics at Tunghai University in Taiwan, a master's degree in accountancy from the University of Illinois at Urbana-Champaign, and a doctoral degree in business administration-accounting at Texas Tech University. He was previously a faculty member at the University of Michigan-Flint.
"I am extremely honored and humbled to be named the Harshman Professor. I am fortunate to work with so many talented leaders and colleagues to promote educational excellence," said Peng. "ATI's contribution will make possible many of the student-centered initiatives that many of us in the School of Business hold dear."
The endowed professorship supports research, salary, scholarly activities, student enrichment activities, and related travel for a professor in the Department of Accounting and Taxation in the RMU School of Business.
"I am honored that a professor who is as dedicated to RMU students as Dr. Peng has been named the first Harshman Professor of Accounting," said Harshman. "It is gratifying to know that today's students will receive the same high-quality business and accounting education that RMU provided to me."