Newsroom
Robert Morris University
RMU, PITT OHIO Team Up to Develop State-of-the-Art Logistics Program
New partnership opens up internships for RMU students, professional development opportunities for PITT OHIO employees.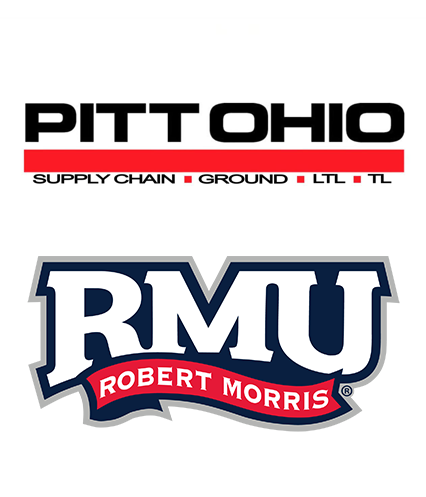 PITT OHIO, a leader in regional and national logistics services, has given the Robert Morris University School of Business $225,000 to bolster the university's business logistics programs, kickstarting a partnership that will include internships for RMU students and professional development opportunities for PITT OHIO employees.
This partnership comes as the RMU School of Business celebrates its 100th anniversary with a showcase event at 6 p.m. this evening at the Alumni Gazebo, behind the Nicholson Center, at RMU's Moon Township campus. 2021 is also the centennial year for the university itself, which was founded September 21, 2021, as the Pittsburgh School of Accountancy.
"The RMU School of Business has produced generation after generation of great leaders in a range of industries, and PITT OHIO is part of that tradition," said Michelle Patrick, dean of the RMU School of Business. "We are grateful and excited to work with them to prepare the next generation of leaders in sales and logistics."
The agreement calls for PITT OHIO and RMU to work together through the university's Center for Sales Excellence to develop new content for the university's undergraduate and graduate business logistics programs. That will include guest lectures from PITT OHIO experts.PITT OHIO will also provide mentorship and internship opportunities for RMU students pursuing careers in sales and logistics and will develop case studies for the university through the RMU Accelerate program. And PITT OHIO will sponsor logistics competitions, with the first to take place on October 30.
"PITT OHIO Supply Chain is proud to call Robert Morris a strategic partner of ours. This was an easy decision for us because we ultimately believe in the leadership and character of the university and it closely aligns with our purpose as a company," said Chuck Hammel IV, vice president of supply chain for PITT OHIO. Hammel is a 2007 RMU graduate and a member of the university's Board of Trustees.
"We are excited to collaborate with the RMU team to build a best-in-class logistics program offering current and prospective students, as well as PITT OHIO employees, career development opportunities in our rapidly changing industry," Hammel said.
The partnership also includes benefits for PITT OHIO: RMU will provide customized training and professional development for PITT OHIO employees and will assist PITT OHIO in recruiting talent nationwide through the university's membership in the University Sales Center Alliance.
"RMU has become a preferred strategic partner for corporations and other organizations in the Pittsburgh region and beyond, and our partnership with PITT OHIO is further proof of that," said RMU President Chris Howard. "We want to ensure that western Pennsylvania has the highly educated and highly skilled workforce it needs to continue to thrive."
RMU has been providing leadership development training to PITT OHIO employees since January 2020, and more sessions took place in September and will continue throughout this fall.
"PITT OHIO values our new partnership with RMU. We are like-minded organizations who are committed to do the right thing by all of our stakeholders. More specifically, PITT OHIO looks forward to working with RMU to advance the study of logistics in southwest Pennsylvania. We believe that newly trained logisticians will help our company, our customers, and the communities in which we operate continue to thrive and prosper," said Geoff Muessig, executive vice president and chief marketing officer of PITT OHIO.