Newsroom
Robert Morris University
RMU Renamed a Center of Actuarial Excellence
One of only 17 U.S. universities with the designation.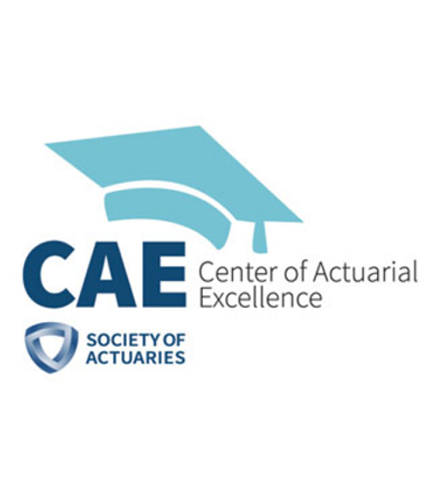 "It's a pretty big deal for us."
The Society of Actuaries has extended Robert Morris University's top designation as a Center of Actuarial Excellence for five more years through the end of 2024.
Of the nearly 200 U.S. universities with actuarial programs reviewed by the Society of Actuaries, which is the world's largest professional organization for those who assess risk for insurance and related fields, RMU is one of only 17 to earn the highest rating. The university has held the designation since 2009.
To be a Center of Actuarial Excellence, a degree program must meet strict criteria that include curriculum, faculty, graduate success, industry connections and professional involvement. A team from the suburban Chicago-based organization that visited RMU last year to observe the program "was impressed by the level of individualized support of actuarial students by faculty, student mentors, and alumni," wrote Nancy Behrens, chair of the evaluation committee, in a January 7 letter to RMU announcing the re-designation.
"It's a pretty big deal for us," said Chris Groendyke, the program's director and an associate professor of actuarial science at RMU. "If you look at other Centers of Actuarial Excellence, there are a lot of big public research institutions. There are not very many smaller schools where you can get individual attention."
Actuaries work with probability, statistics and finance to help mitigate risk, both in corporate settings and in the insurance industry.  Career rankings consistently place actuary among the best jobs thanks to high salaries and industry demand along with relatively low stress levels. 
RMU's program is distinguished by faculty who combine workplace and academic experience and a curriculum that focuses not only on preparation for licensing exams but also applied learning attuned to current industry trends, Groendyke said. He worked as an actuary in life insurance for seven years before getting his Ph.D., and has been at RMU since 2012.
At the start of the academic year, 127 students were enrolled as actuarial science majors at RMU. The bachelor's degree program is part of the School of Engineering, Mathematics and Science, and counts more undergraduates enrolled than any other math major at the school.