Newsroom
Robert Morris University
RMU Tabbed No. 3 in WBCA Academic Top 25 Division I Honor Roll
This is Robert Morris' fourth consecutive top-four ranking and second straight year at No. 3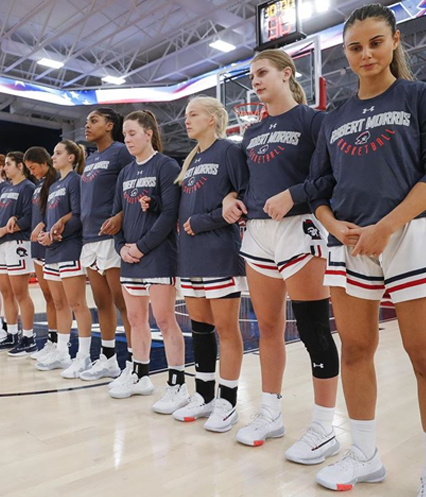 The Robert Morris University women's basketball program continued an unparalleled run of academic success, earning the No. 3 ranking in the Women's Basketball Coaches Association (WBCA) Top 25 Division I Team Honor Roll, as announced by the organization in a press release this afternoon.
Robert Morris posted a cumulative grade point average of 3.767 over the 2019-20 school year to earn its fourth consecutive top-four finish, a mark that hasn't been duplicated by any other Division I team over this stretch. The Colonials also garnered the No. 3 spot last season with a 3.713 GPA, which followed a No. 4 ranking in 2017-18 with a 3.748 mark. RMU was the national runner-up in 2016-17, posting a 3.726 GPA to begin this unprecedented run.
"We are filled with joy to learn about our GPA national ranking," said RMU head coach Charlie Buscaglia. "This year's academic accomplishments not only came with a great work ethic, but also the ability of our student-athletes to handle adversity with the sudden change in learning environment. Our student-athletes truly stayed focused while abruptly leaving campus in March, and heading back to their homes to finish the semester due to COVID-19. Many of our international student-athletes studied at very odd hours with the time difference."
RELEASE: WBCA Announces 2019-20 Academic Top 25 Team Honor Rolls
"The WBCA applauds these head coaches and their teams for their commitment to academic excellence," said WBCA Executive Director Danielle Donehew in the press release. "We appreciate and value the hard work and dedication the players and coaches have put forth to thrive in the classroom and on the basketball court."
South Dakota (3.793) and new Horizon League colleague Youngstown State (3.782) were the two teams that finished ahead of the Colonials in the Division I rankings. Fellow Horizon League teams Green Bay (3.692) and Purdue Fort Wayne (3.631) placed 13th and 23rd, respectively.
"The circumstances make this year's GPA even more special and puts another brick on our foundation," added Buscaglia. "We are very proud of our student-athletes as this was truly another team effort. I would like to thank Coach (Asami) Morita and (Assistant Athletic Director for Academics) Nicole Law for all the outstanding work to advise our student-athletes on a daily basis."
Across the five levels (Division I, II, III, NAIA, Two-Year College) that the WBCA ranks, RMU is joined by only Division II Lubbock Christian University among programs that have been ranked inside the top four of their respective divisions for four seasons running.
Robert Morris received its fourth consecutive Northeast Conference (NEC) Team GPA Award in June, capping a run in the conference that saw it win eight NEC regular-season titles and eight NEC Tournament crowns. The same excellence the program demonstrated in the classroom was also duplicated on the court last season, as the Colonials went 23-7 overall and 17-1 in the NEC, capturing a fourth straight regular-season title in the process. Since 2013-14 among mid-major programs, RMU ranks second in conference tournament titles (4), third in NCAA Tournament appearances (4), fourth in conference regular-season titles (5), ninth in conference wins (101), 14th in conference winning percentage (.802), 15th in postseason appearances (5), 16th in overall wins (150), and 19th in overall winning percentage (.661).