Newsroom
Robert Morris University
Roaring Ahead
Bernard Clark Jr. won two national championships and an MVP award at the Orange Bowl playing for Miami. He is trying to bring those winning ways to RMU as the new head football coach.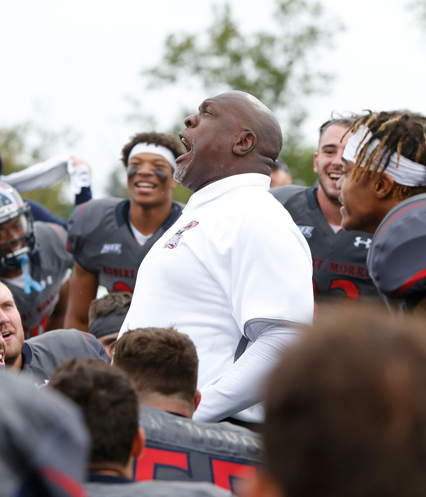 Starting his first season at RMU with an intense team talk to 85 young men in Hopwood Hall, the new Colonials head football coach began with his name. "I'm Bernard Clark Jr.," he said. "That means I want to represent my mother and my father with respect."
Upon finishing, Clark turned to his assistant coaches and asked them to do the same. His players were next. "It was wonderful," says senior lineman Amir Fenwick, the team's defensive MVP in 2017. "We stood up over the next few days and shared a lot of things about ourselves. It changed how we look at each other."
The stories were raw. Real. And then Clark did something that had never been done in the 25-year history of the Colonials program: He approved the use of surnames on the back of each player's jersey. The way he sees it, each Colonials player now knows for whom he is blocking, tackling, running, and sacrificing on a much deeper level. They are unified by their similarities and their differences. "White, black, doesn't matter," says Clark, who spent four years as an assistant and associate head coach at the University of Albany prior to taking over at RMU. "We don't have to be the same. We just need to be one."
The debut game for Clark and these new-look Colonials was a loss at Dayton — not the outcome they had hoped for, but not unexpected for a group trying to establish a winning identity. Rebooting a program that went 9-35 the previous four seasons takes patience and time. Chuck Noll went 12-30 in his first three seasons with the Steelers before winning four Super Bowls. Nick Saban went 7-6 in his debut season at Alabama before guiding the Tide to five national titles. Even Bill Belichick went 5-11 in his first year in New England. "Winning," Clark says, "is a process."
A week after the Dayton loss, Clark, whose nickname is "Tiger," confidently patrolled the sideline for his home coaching debut, sporting a white long-sleeved shirt that revealed the muscles that made him a star at the University of Miami in the '80s. The opponent was Virginia State, and he would pull out all the stops. He called for a perfectly executed onside kick. Ditto for a two-point conversion. And he implored his team to keep going after trailing by 12 in the fourth quarter. The result was a pulsating 22-19 victory. Moments after sophomore defensive lineman Frank Antuono blocked a field goal attempt with no time left to preserve the win, Clark embraced President Chris Howard, the man who hired him, and lifted him into the air at the far end of Joe Walton Stadium.
It is on that field where Clark wants to build a champion again. He often notes that, under the legendary Walton, the first of three coaches in RMU football history, the program won two NCAA Division I-AA Mid-Major national championships and six Northeast Conference titles. Clark's 20 years as a college assistant — a career that surfaced unexpectedly while he was selling cars — and his four years playing for the legendary Jimmy Johnson at Miami have prepared him, he believes, to be a championship coach too.
His players, many of whom were recruited by former coach John Banaszak, feel the same. "His name holds weight with us — he was the MVP of the Orange Bowl, he played at 'The U,' he won two national championships, he played in the NFL," junior cornerback Tevaul Brown says. "He's been in places I want to get to. When he talks, you want to take in everything he's saying because you know it will make
you a better player."
At practices, Clark jumps from one position group to the next, participating in drills when necessary. Need a linebacker? Clark is there. A running back? Give him the ball. Clark pushes hard on his players. He challenges them to be better competitors, better teammates, better men.
"At Miami, Tiger was a natural leader," says Colonials associate head coach and former Miami teammate Rod Holder. "We rallied around him. He got us going. That's why it was a no-brainer for me to come here when he asked. I know he'll build Robert Morris into a winner."
And maybe, just maybe, into a champion again.