Newsroom
Robert Morris University
Robert Morris University: Accounting for Success
RMU is the First School in Western PA to Earn AACSB Accounting Accreditation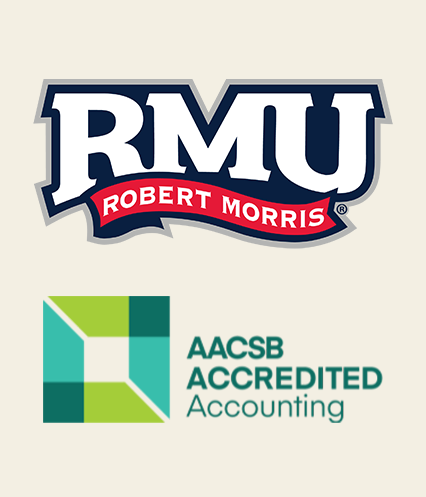 Robert Morris University has added a new standard of quality to its already impressive reputation in business with the accreditation of its accounting program by AACSB International.
The RMU School of Business is already accredited by AACSB, the longest‐standing and most recognized accreditation body for schools of business. Supplemental accounting accreditation from AACSB signifies RMU's commitment to strategic management, learner success, thought leadership, and societal impact of its accounting program.
Of the 27 Pennsylvania business schools in Pennsylvania accredited by AACSB, RMU is one of only four with specific AACSB accreditation of their accounting programs. RMU is the first business school in western Pennsylvania to have the distinction. Only 1 percent of all schools offering business degree programs worldwide at the bachelor's level or higher hold such an accreditation.
"We are gratified and excited to receive AACSB accounting accreditation, and see it as the natural next step in our continuous pursuit of excellence in accounting education," said Jacob Peng, Richard J. Harshman Professor of Accounting and head of the RMU Department of Accounting and Taxation. "This achievement is consistent with our accounting program's long history of quality and the reputation that the program enjoys in the Pittsburgh professional accounting community."
RMU has more than a century of experience in the field of accounting. The university was founded in 1921 as the Pittsburgh School of Accountancy.
"I applaud the faculty in the Department of Accounting and Taxation, along with the entire School of Business faculty and staff, and student affairs units across the university, for their efforts in helping us to launch," said Prasad Vemala, acting dean of the School of Business. "The future is now, and this accreditation is the springboard for our next 100 years."
Evaluators commended the school's accounting department for its clear focus on professional preparation, exemplified by close-knit relationships with accounting firms that help students explore future careers. They cited a student orientation program in which leading firms participate, school events such as the annual "Accounting Day" and numerous case competitions judged by practicing accountants, a mentorship program that pairs students with working professionals, and active involvement by the department's external advisory board in curriculum development and school programming.
AACSB International is a nonprofit organization with offices in Tampa, Amsterdam, and Singapore. Accreditation is a voluntary, nongovernmental process that includes a rigorous external review of a school's mission, faculty qualifications, curricula, and ability to provide the highest‐quality programs.
The other business schools in Pennsylvania with AACSB accounting accreditation are Lehigh, St. Joseph's, and Villanova.