Newsroom
Robert Morris University
Russ Olsen Makes Multi-Year Pledge to Fund a Multi-Team Event (MTE) Basketball Tournament at Robert Morris University
The gift establishes a multi-team event basketball tournament that will be hosted at RMU for a minimum of 3 years.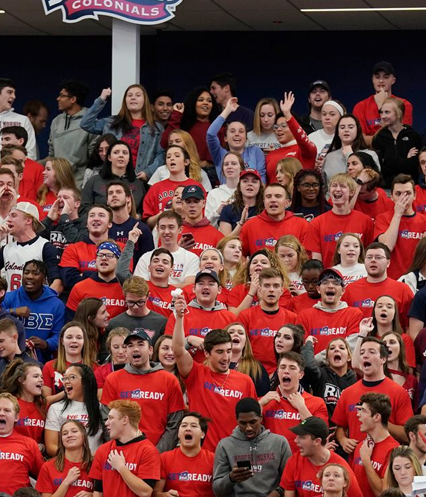 Russ Olsen has made a six figure, multi-year pledge on the annual RMU Day of Giving to fund a multi-team event (MTE) basketball tournament to be hosted by Robert Morris University for a minimum of 3 years.
In recent years, multi-team event (MTE) basketball tournaments have emerged as a key strategy to help programs increase their home games, boost their profile, enhance their reputation, and bolster community engagement.
The tournament is being established in honor of Richard Bennett and Philip Urban, two childhood friends of Olsen.
"We couldn't be more excited as well as thankful for the generosity of Russ Olsen for the gift to create a home tournament," RMU Pat Gallagher Head Coach Andrew Toole said. "Having the opportunity to showcase the UPMC Events Center and host multiple games in a tournament atmosphere is not only exciting for our program, but it's great for the University and local and regional communities, as well. We're looking forward to being able to put on a first-class event that everyone can both rally around and be proud of."
"Russ is a great friend of Robert Morris University, and we are grateful for the opportunity to establish what will become a marquee university event for years to come" said RMU President Michelle Patrick. "We join Russ in honoring the memory of his friends Richard and Philip."
Russ Olsen most recently served as Chief Executive Officer of Triad Life Sciences, Inc., an emerging regenerative medicine company with a groundbreaking FDA-cleared technology platform engineered to address unmet clinical needs in complex surgical wounds, chronic stalled wounds, and burns. Russ graduated from Robert Morris University in 1982 with a degree in Management and has over 35 years of experience in executive management, sales, and marketing. He gained much of his executive management experience while holding senior positions in marketing, business development, and sales for Fortune 500 companies.