Newsroom
Robert Morris University
School of Business to Award Certificates in Sales
The 12-credit program is part of the focus of the new RMU Center for Sales Excellence.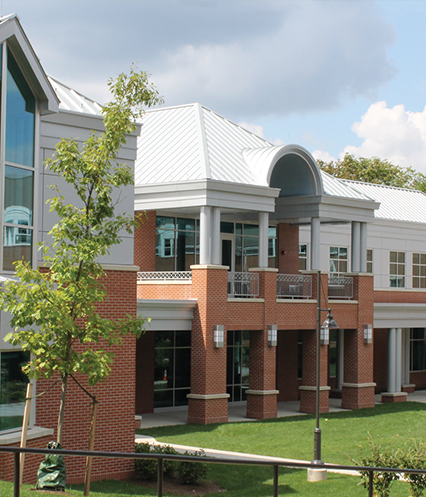 The upcoming 2019-20 academic year will be the first in which RMU students can graduate with a certificate in sales. The new 12-credit program, available as part of an undergraduate degree or as a standalone credential, is designed to address the rising demand for talent in professional sales fields, said Jill Kurp (Maher), university professor of marketing and head of the department of marketing in the School of Business. The certificate program is available to any student, not just those in business fields, Kurp said.
"We're really changing the culture in students' minds about sales," said Kurp. "Sales is an integral part of an organization. If you don't have a talented sales force, you can't sell your product, and you can't make a profit."
The curriculum comprises four courses that focus on sales psychology, branding, consultative and professional sales. Students train using Salesforce, the industry's leading CRM (customer relationship management) software, using 30 free site licenses the company provides to RMU each semester.
Through a partnership with global industrial and construction supply company Fastenal, students in the capstone course will practice simulations of real world professional sales scenarios. Mike Cunningham, district manager for 21 Fastenal locations in southwestern Pennsylvania and West Virginia, will participate in those exercises along with some of his staff to provide feedback and evaluation.
"I commend Robert Morris for identifying the growing number of professional sales positions that are out there and understanding that there's a need to train the students for them," Cunningham said. "What's impressive to me is the curriculum — how to professionally sell, how to network, how to prospect, how to sell correctly and ethically. And not a lot of schools have those hands-on sales experiences in class, like mock sales calls, mock presentations, and case studies. Bringing that real world experience is crucial to preparing the students for their careers."
Also this fall, the School of Business is opening a Center for Sales Excellence. The center will organize networking events, guest speakers, and an annual sales competition using a case study provided by U.S. Steel, as well as supporting the certificate program. It is the school's second center, following the Center for Entrepreneurship and Innovation.
The new center is made possible thanks to a $50,000 donation from John Waldron, a 1982 Robert Morris alumnus and member of the university Board of Trustees. Waldron is CEO of Waldron Private Wealth, a boutique wealth management firm that advises a select group of entrepreneurs, corporate executives and families of multigenerational wealth. Waldron Private Wealth is based in Bridgeville and has received national recognition as one of the country's best wealth advisors by leading publications including Forbes, Barron's and The Financial Times.
With the new center's opening, RMU will apply to join the University Sales Center Alliance, a consortium of more than 50 universities in the United States that also have sales centers on their campuses. It will become the first university in the Pittsburgh region to join the alliance; currently the nearest USCA member schools are the University of Akron, West Virginia University, and Bloomsburg University of Pennsylvania.