Newsroom
Robert Morris University
A Strong Defense
RMU initiatives receive funding from the U.S. Department of Defense.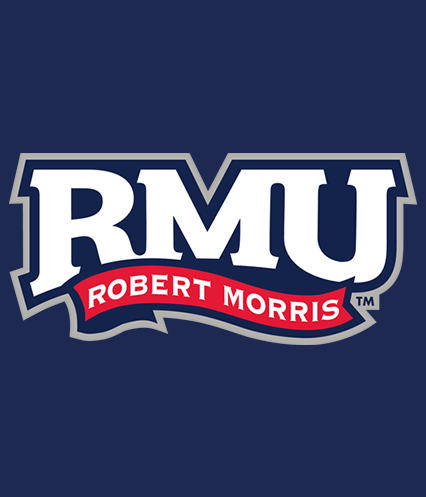 Three Robert Morris University graduate students working on their master's degree in cybersecurity are doing so with all expenses paid by the U.S. Department of Defense. The university is also part of a consortium receiving federal defense funding for advanced manufacturing research and development.
Anna Conover, Brett Hubbard, and Emma Phillips are the first beneficiaries of a new RMU Cyber Scholarship Program funded with a grant from the Defense Department. This year's award covers full tuition and fees, a $30,000 living stipend, and an additional $2,750 for textbooks and laptop computer for each student, in exchange for their commitment to work for at least a year in a cybersecurity position for the department after they graduate.
Both graduate and undergraduate students are eligible for the cybersecurity scholarships, which are administered by the National Security Agency. The agency, together with the Department of Homeland Security, last year designated RMU a national Center of Academic Excellence in Cyber Defense Education, indicating the university is helping to reduce threats to the national infrastructure by promoting higher education and research in cyber defense, as well as to provide the nation with a pipeline of qualified cybersecurity professionals
RMU joins Carnegie Mellon University and the University of Pittsburgh as the sole universities in Allegheny County with the designation, which must be re-evaluated every five years. Approximately 200 undergraduate students and 100 graduate students are enrolled in cybersecurity degree programs at RMU.
"Cybersecurity has been our largest enrollment program in our department and our school. This designation is the highest standard in cybersecurity education in the U.S., and it helps us to position RMU as a national leader in cybersecurity education" said Ping Wang, professor of computer information systems and principal investigator of the cybersecurity scholarship program at RMU. Wang formerly was a professor and director of the graduate cybersecurity program at the University of Maryland.
Robert Morris University is also part of a southwestern Pennsylvania defense project that recently received a $5 million Defense Department grant to strengthen defense manufacturing capabilities through an industrial production ecosystem that melds advanced metals and materials with artificial intelligence, additive manufacturing, and robotics. 
The university will receive $250,000 over three years to conduct workshops, seminars, and other training in 3-D or additive manufacturing as part of the Artificial Intelligence in Manufacturing Defense Industry Consortium.
"This is a recognition of our engineering and manufacturing programs," said Maria Kalevitch, dean of the School of Engineering, Mathematics and Science and associate provost for innovation and outreach. "It's an opportunity to showcase RMU's strong expertise to partners in the region and put an emphasis on the importance of academics in manufacturing industry workforce development."
It is the latest such workforce development consortium to include RMU, which has expertise in 3-D printing as well as the only ABET-accredited degree program in manufacturing engineering in Pennsylvania. Other federally funded efforts have included America Makes and Advanced Robotics for Manufacturing.